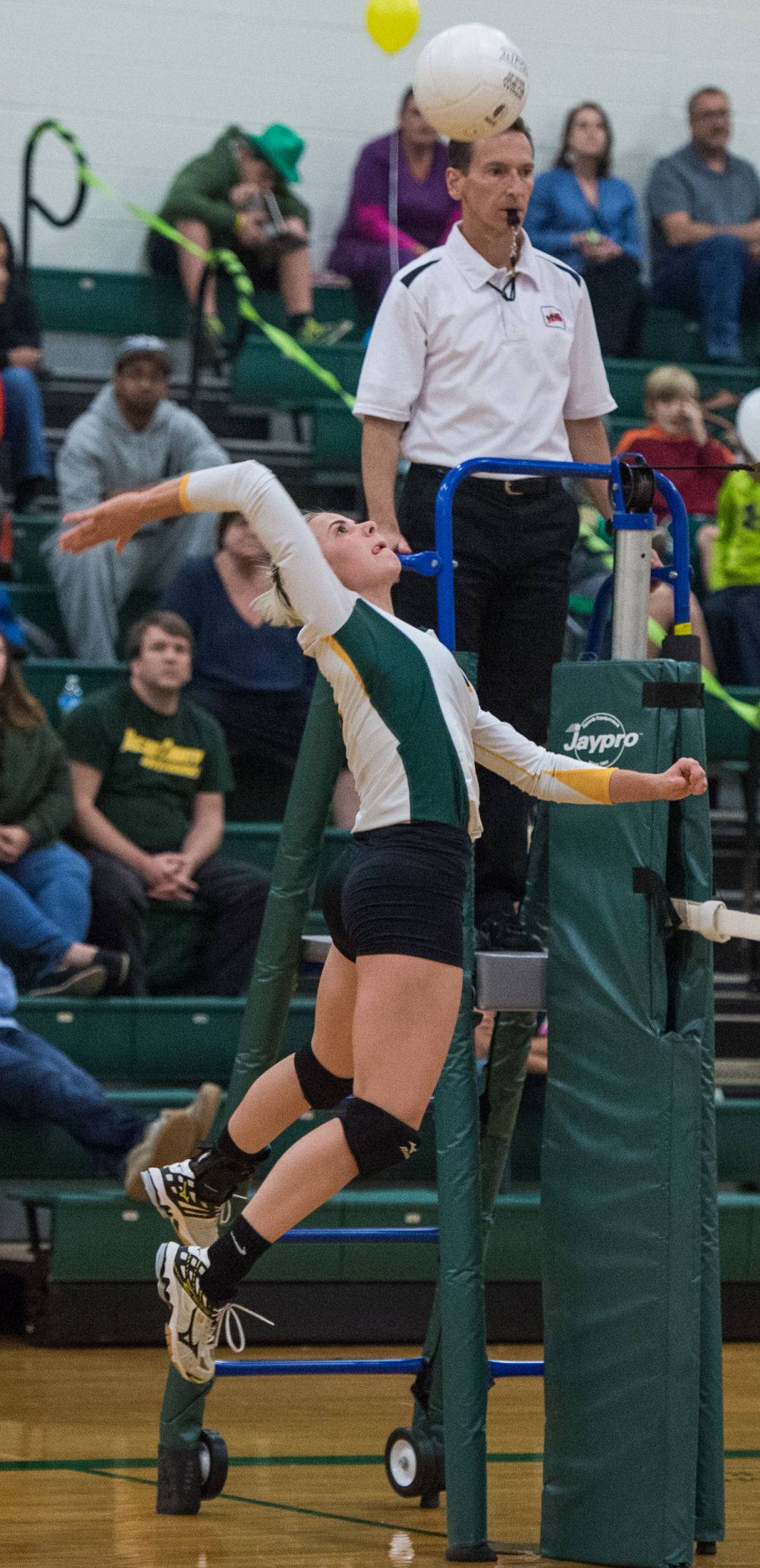 Courtesy of Nelson County Times
Over the last few weeks of the season the Lady Govs volleyball team was having trouble win-ning back to back games but all that changed last week as the Nelson girls strung three straight wins together in three nights of action with wins over William Campbell, Amherst and Gretna.
The trio of victories started last Tuesday against William Campbell with Nelson sweeping the Lady Generals, 25-18, 25-9 and 25-12.
"Before heading into last week we knew if we could win we would put ourselves in better po-sition for the conference tournament," said Nelson coach Vicki Crawford." With these three wins we jumped to third place in the conference. We ended the regular season with an 11-7 record. We are hoping to take the momentum from this week into the conference tournament."
Game stats: Raelyn McGarry, 8 kills, Megan Seitz, 6 kills, Sarah McGarry, 3 kills, 4 blocks, 5 aces, Adrieanna Vest, 2 blocks, Kate Strong, 10 assists, 4 digs, Kalley Seitz, 8 assists, 5 aces, 3 digs.
The Nelson squad hosted Amherst last Wednesday and as soon as the ball was first served the Nelson student section rocked the gym with its extra loud support that included signs with one that had lights on it, according to Crawford. The group never let up and was just as loud when the last Nelson point was won that completed another 3-0 sweep, 25-13, 25-19 and 25-18.
"The best effort all year. We played as a total team," said Crawford." Everyone contributed to the win, the fans and student section helped motivate us to play our best match to date."
Game stats: Kalin McGarry, 2 aces, 5 digs; Adrieanna Vest, 2 aces, 4 blocks; Sarah McGarry, 2 aces, 9 kills, 2 blocks.
Kalley Seitz: 2 aces, 9 digs, 20 assists; Megan Seitz, 5 kills, 9 digs,1 block; Raelyn McGarry, 11 kills, 18 digs.
Treshanda Crawford, 12 digs; Kate Strong,10 assits, 3 digs; Tristan Lucas, 2 kills, 2 digs.
At Gretna last Thursday, the Lady Govs completed the three game sweet over the Lady Hawks by scores of 25-14, 25-9 and 25-15.
Game stats: Megan Seitz, 3 aces, 6 kills, 7 digs ,Adrieanna Vest, 2 aces 3 kills,Raelyn McGarry, 13 kills, 8 digs,Sarah McGarry, 7 kills ,Tristan Lucas: 3 kills, 3 assists,Kate Strong, 27 assists, 5 digs,Treshanda Crawford, 14 digs.
Photos by:  Lee Luther, Jr.