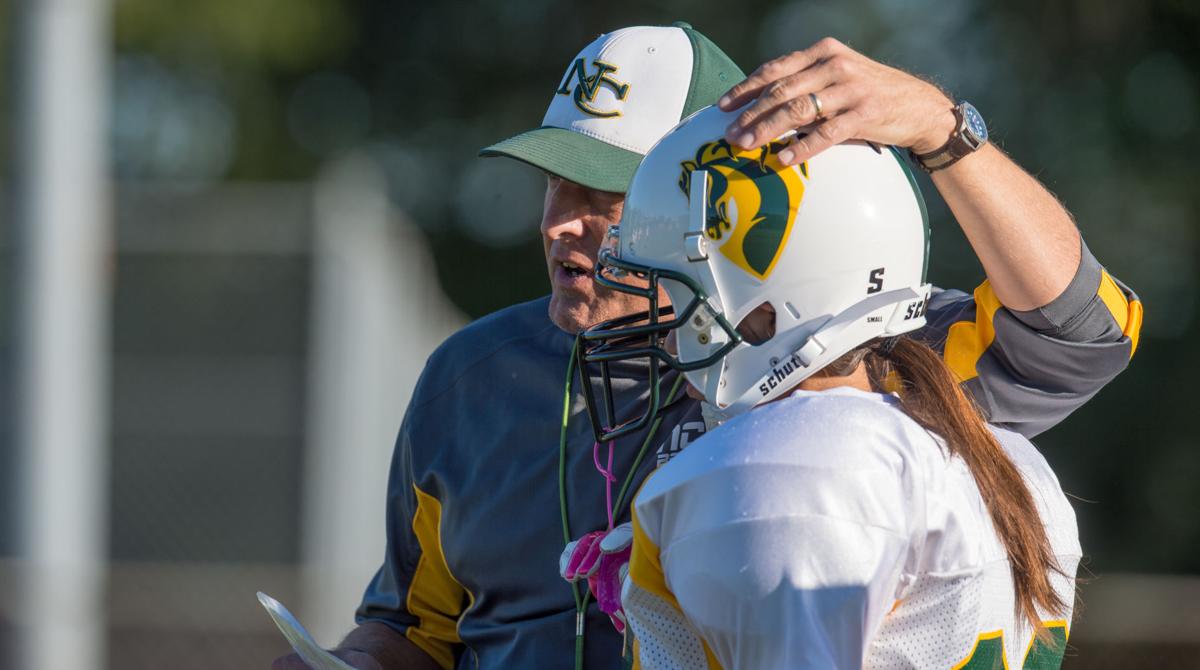 Courtesy of Nelson County Times
Five years ago, Kenya Gaines, a fourth-grader at the time, sat in the bleachers next to the football field at Nelson County High School. She was there to support her uncle, who was an assistant coach for the varsity team.
As the game progressed, Kenya said, one play stood out to her.
It was like a movie. A player, whom she only remembers by the nickname "Worm," was silhouetted by the bright lights above the field as he ran across the yard lines.
It was in that moment the idea became clear to Kenya: She would one day play football for Nelson County High School.
"I just was like, 'Yep, that's going to be me,'" she said.
At the end of October, Kenya had just finished up her first season as a running back on the junior varsity team.
Since that light when on in Kenya's mind five years ago, she's been asking her mom to allow her to play.
"This year," she said, "I was not going to take no for an answer."
Kenya said at first, her friends didn't believe she would actually play, but when she showed up, they started to accept her as part of their brotherhood.
"Me seeing her play on the team, showing up some of the boys, it gives me motivation," teammate Felix Rodriguez said. "I know I can trust her out there on the field with me, playing 100 percent. She gives all her effort out there.
"She's out there grinding, taking hits, giving hits. I think to myself, 'That's a tough cookie.' She's got a pit bull mentality. … She shows heart."
JV coach Petey Vaughan said the rest of the team sometimes pulls back a little when they do tackling drills, "but she doesn't want that."
And Vaughan doesn't want that, either.
"For me, if she's out there, she's got to be hit," he said.
He said Kenya is a "team player" and continued to work hard throughout the season.
"When she's in the game," Vaughan said, "she gives it her all. She knows what we expect from her, and she gives that 110 percent. Anything I ask her, she does it."
Kenya said the fact that she's able to play football shows "there's nothing that a boy can do that a girl can't."
"I think it's pretty awesome," she said. "My mom, even though she was really against it, she told me she really wanted to play in high school, she never had the courage to go out there and do it. Hopefully I'm a role model to girls that actually want to play."
Eighth-grader Destiny Waters also recently wrapped up a season playing football with the boys for the middle school team. This year marked the second year she played.
"A lot of boys were always saying that girls couldn't play football, and I wanted to prove them wrong," Destiny said.
Destiny played wide receiver this year, where she was able to block and create running lanes for her teammates.
"She's improved a lot," middle school coach Randy Berkey said. "She hustles, she blocks really well. … I think a lot of kids actually looked up to her."
Kenya encouraged any girl who is interested in playing football to give it a chance. She said it's not always easy, but it can be rewarding.
"It's just absolutely fun. If there's any girl out there that wants to play, just go do it," she said. "You'll have the time of your life. There's nothing like being a girl and running the ball and you hit a boy and you knock him down instead of him knocking you down. It's the best feeling in the world."
Photos by:  Lee Luther, Jr.