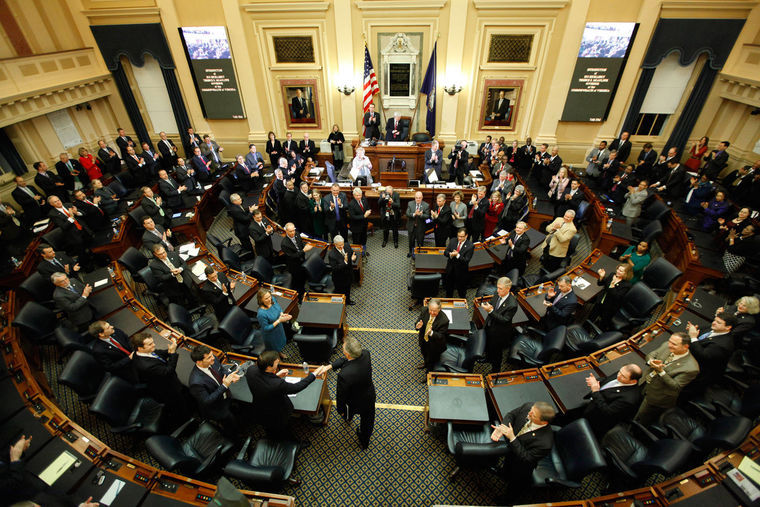 Courtesy of Nelson County Times
RICHMOND — As declining public school enrollment persists throughout much of rural Virginia, legislators in both chambers proposed stopgap measures to help school systems trying to adapt.
Because the state allocates money to local school districts using a per-student formula, a sharp drop or steady decline in population can squeeze a district that must maintain the same number of buildings, buses and often teachers. Facing declining enrollment in the past 10 years, school boards in Campbell, Bedford and Amherst counties decided to close schools.
With their budget proposals announced a week ago, House and Senate monies committees proposed aid for districts facing enrollment declines, including a handful in the Lynchburg area. Which formula they choose to calculate aid could mean a significant difference for localities hoping for additional dollars.
While the Senate version would send additional money to schools where enrollment dropped by 1.5 percent or more during the last year since the biennial budget was passed, the House budget focuses on schools with a 10 percent population decline over 10 years.
The House only includes schools of 10,000 or fewer students. Along with choosing a mechanism, the chambers will need to agree on cost. The Senate allocated $6.9 million toward "transitional assistance" for schools compared to the House's $9 million for its "10-10-10" small schools support fund.
"I'm not in a bidding war with the House on this," said Sen. Steve Newman, R-Bedford County, the Senate Health and Education chairman and one of the legislators who will negotiate the final budget in conference. "This is a matter of should we do something to help these localities adjust to declining enrollments? And I think the Senate and the House have answered yes in two different ways."
The negotiations are a small part of a budget overhaul that includes reorganizing and cutting to fill a $1.2 billion gap for the 2017-18 biennial spending plan. The chambers jointly announced raises for state employees and separately proposed alternate methods to address teacher pay raises automatically dropped after state revenue targets came up short last year and projections for the two-year budget declined.
Each house passed its own budget bill Thursday, and conferees are expected to reconcile them before the 2017 General Assembly adjourns Feb. 25. Gov. Terry McAuliffe also will have his say before an official budget is signed.
While the House version would allocate $512,581 to Campbell County schools after its enrollment dropped more than 10 percent over 10 years, Campbell would not be included under the Senate plan.
The Senate initiative, though, would send $66,825 to Nelson County's school division, which lost 67 students over the last year but is not covered in the House plan. Bedford and Amherst county divisions would receive money under both proposals, although the House allocates a significantly higher portion for each.
One of the main problems is many schools are not at capacity but must remain open to meet the district's needs, Campbell County Schools Superintendent Robert Johnson said. The school still needs the same general number of teachers, programs and infrastructure but receives a diminished state contribution.
A large graduating class last year compared to a small incoming kindergarten class made up about half of Nelson County's public school average enrollment drop of 67 students, to 1,829 total over the last year, according to Superintendent Jeff Comer.
While the school system was able to manage the $300,000 loss this year, the budget becomes more difficult next year, Comer said. The rest of the decline is spread out district-wide.
"If they were all off one bus run, it's easy, but it never works that way," Comer said.
The decline has been steady, and he said March average enrollment put Nelson just short of the "10-10-10" threshold. He expects the decline to continue.
The Senate proposal originally was drawn up in response to needs in Southwest Virginia, but Finance Committee members decided not to limit the formula by region, Newman said.
The Senate intends the money to be a stopgap for sudden drops in enrollment, Newman said. He also is skeptical of drawing a line between small and large schools as the House has proposed.
"We called ours transitional funds because it's going to be one-time funds to help you transition to the next year," Newman said. "… It doesn't really matter what happened 10 years ago. If you had a dramatic drop one year 10 years ago, it just doesn't matter."
From the 2005-06 school year to the 2016-2017 school year, Campbell County enrollment has dropped from 8,773 to 7,771, squeezing district dollars, Johnson said. In 2010, Campbell County closed Gladys Elementary School. The next year, it moved its alternative school into the same building as its technical center.
"Your expenses are still there. You still have to teach English. You still have to teach math. The question is that teacher teaching in a classroom with 20 students in it or is that teacher teaching in a class with 12 students in it," Johnson said.
The House initiative came after rural caucus members urged aid for their localities, in particular Del. Nick Rush, R-Montgomery, who announced the plan on the floor last month, Del. R. Steven Landes, R-Augusta, the House Appropriations Committee vice chairman and House Education Committee chairman.
The House drew the line at 10,000 students because smaller schools seemed to be the ones having the problem, Landes said. Using a 10-year decline is meant to catch a trend rather than what could be an anomaly, Landes said.
"It gives you a wider horizon to see what is the pattern," Landes said. "… We really try to come up with ways you can go to the other school systems and say, 'We're not penalizing you.'"
Both Newman and Landes agreed the issue of declining enrollment in rural areas eventually will require a deep systemic fix, such as encouraging a regional approach for some small school districts, adjustments to standards of quality requirements and encouraging online education.
"It's a long-term problem," Landes said.