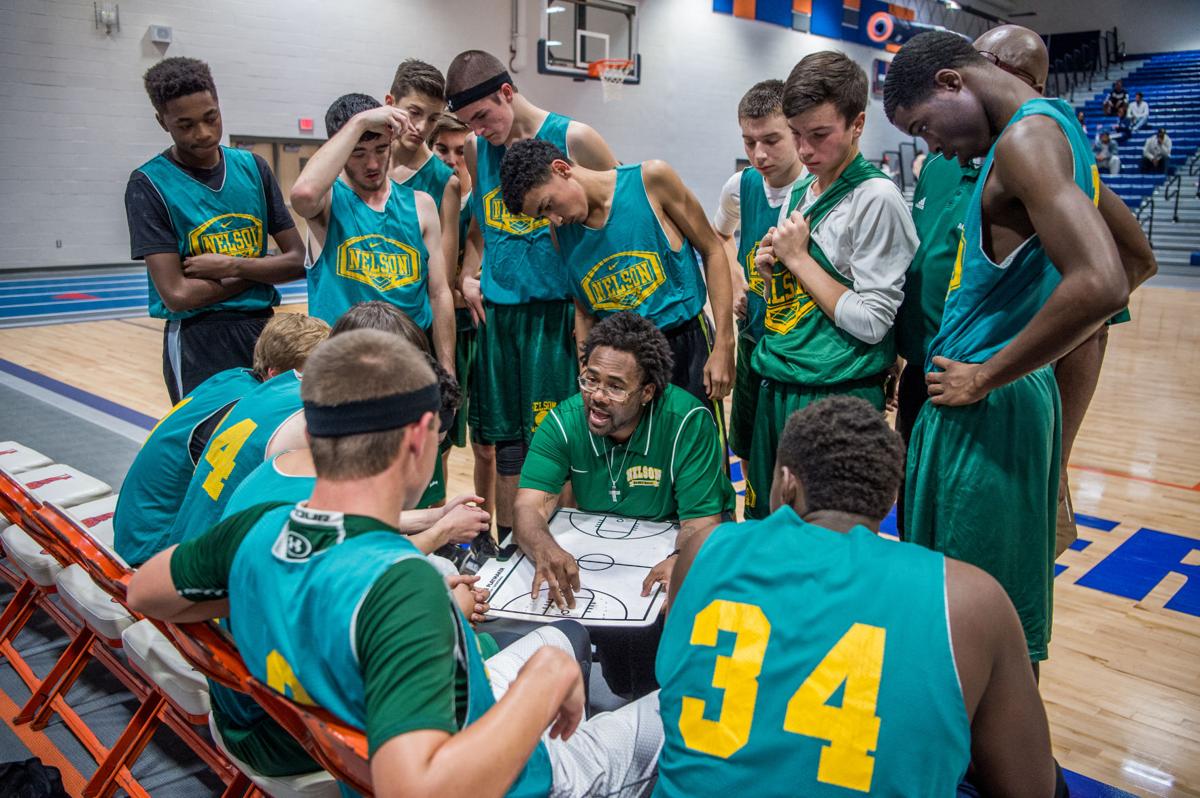 Courtesy of Nelson County Times
About seven years ago, new Nelson County High School varsity basketball coach Brian Wilson was far from his comfort zone.
He wasn't walking the sidelines during games or drawing up plays during timeouts, and he wasn't running drills during practice. Instead, a few days a week, he was planted in a chair at a treatment center, hooked up to a dialysis machine.
With his kidney failing, as he awaited a transplant, Wilson had nowhere near the mental strength he tries to instill in his players today.
Despite dealing with diabetes for about 14 years already, things started to get worse for Wilson in 2009. When he was 32, he learned the function in his kidney was weakening. But at the time, he recalled, he felt like it "wasn't a big deal."
That perception soon began to change, though, when his doctor called him into the office and told him he needed to start dialysis the next day.
"I asked my doctor, 'What are my options?'" Wilson recalled. "He said, 'If you don't do it, you'll die.' And that wasn't an option."
As an assistant basketball coach at another school in Virginia, Wilson decided to keep up with his active lifestyle, he would try home hemodialysis, which required him to be hooked up to a machine that cleaned his blood six days a week. Often, he said, he came home late at night and had to do dialysis at midnight or later.
Soon, it became too much to keep up with both dialysis and a regular job, and he went on disability and received treatment at a dialysis center.
Within months, Wilson got a call. He was told a kidney was available and was asked if he wanted it.
"At that point in time, you could've told me you had a kidney you got from a cat," Wilson said. "If it would've worked, I would've taken it. I just wanted to be done with this."
The next day, though, he got a second call telling him the kidney was no longer viable.
"I think I was worse off than than I was before," Wilson said of his attitude after learning the opportunity for a transplant was taken away. "I didn't really have hope and I didn't believe. … I got depressed."
His perception began to change, however, after hearing a sermon about praying with expectation. Wilson said he began to think, "Why shouldn't I receive a kidney?"
Months later, another kidney was available, and Wilson underwent a transplant. He said he was actually a kidney and pancreas recipient, which cured him of diabetes as well.
"My family and I would always pray for me not to have diabetes," he said. "It's funny how God works, because he does things, but sometimes you go through some things to get somewhere. It's unfortunate that I had to go through what I went through, but I don't have diabetes anymore."
Wilson explained while he waited for a kidney, he was worried he would not be able to see his kids play sports in the future or not be able to step back on the court to coach again. Now, he understands his experience has become a teaching tool for his team.
"I hope that if anything, [my players] learn the lesson that sometimes things don't always lay out the way you want them to, but you have to play the cards the way they come, and nothing is the end of the road," Wilson said.
Wilson shared his story with his team early in November during an overnight retreat, and the players already have begun to see how his experience can help them.
"Just to know that from the struggles that we're going to have throughout the year, it's going to help us to know coach has been through struggles and he's overcome them and in a better place now," junior Jacob Saunders said.
"At the bottom of the valley, wherever we might be, let's say halfway through the season we're at the bottom, we can look at coach and say, 'he's made it to the top, and we can be there with him.' It just gives us a heart and desire to want to get back to the top, to climb out of the ditch and to be successful."
Other leaders on the team agreed, adding they've seen and been inspired by his determination in preseason practices.
"It just shows his character and leadership and how he trusts us with all this stuff," Saunders said. "For him saying that I trust y'all to know what I've been through, we're all going to trust him … and believe in him."
Photo by:  Lee Luther, Jr.