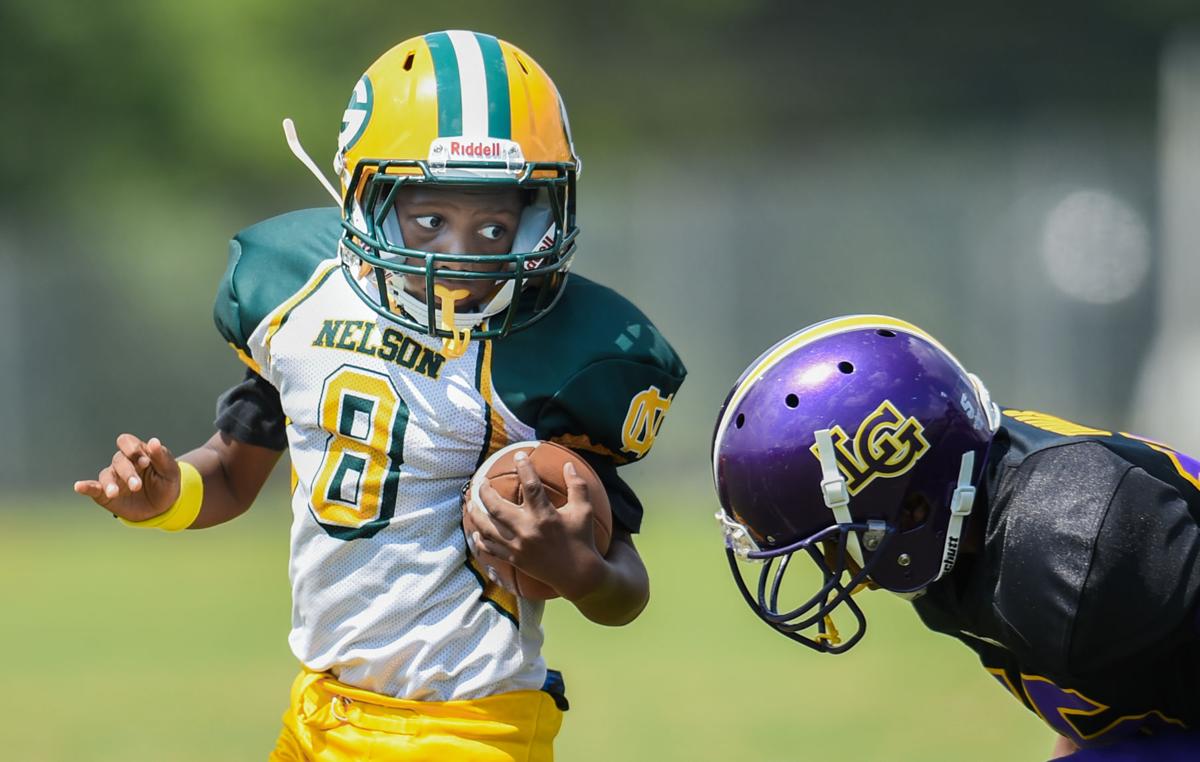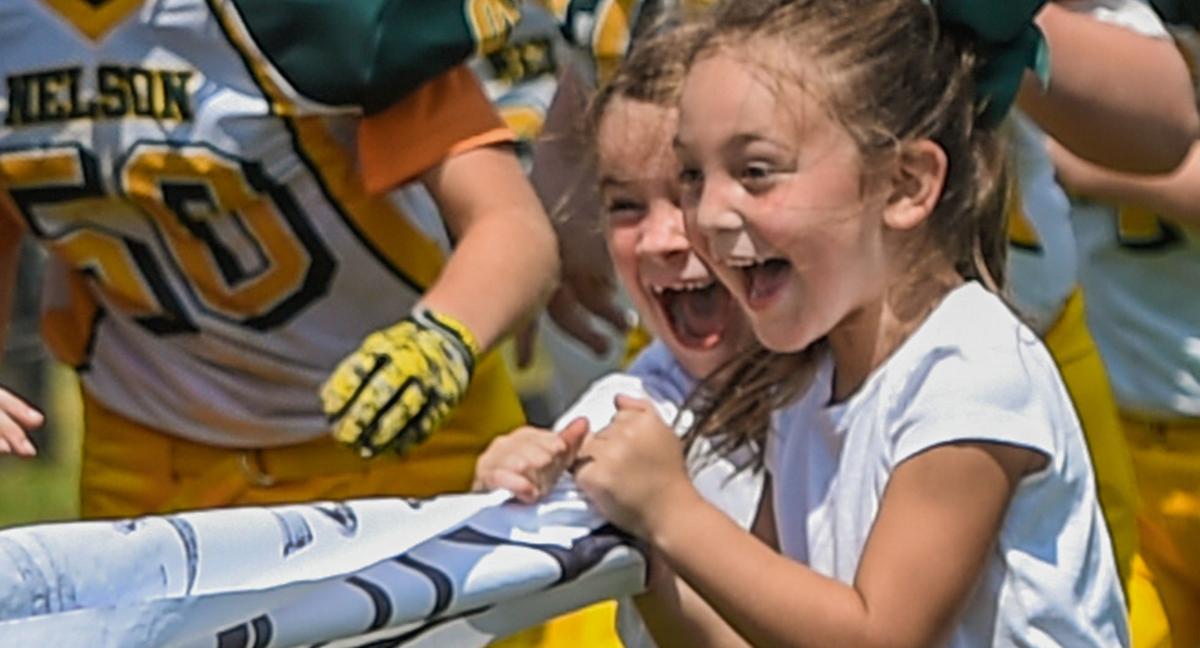 Courtesy of Nelson County Times
Eight years in the making, the resurgence of the Nelson County Youth Football program served as a training ground for boys wanting to play the sport and as a rallying point for the community.
"The first year was lot better than I could've hoped for," said Benji McGann, Nelson County Youth Football president. "We're definitely rolling in the right direction. … The community, the way they got behind it, it's kind of taken on a life of it's own."
Efforts to bring the program back began in the fall of 2015, and by the end of August 2016, 64 kids between the ages of 8 and 13 played their first games. That Saturday, Aug. 27, marked the first time in eight years a youth football game had been played in Nelson.
Before games began and throughout the season, dozens of volunteers put in months of work. McGann said after purchasing used uniforms from a former team in the Lynchburg area, he spent hours power-washing pants on a weekend before the season began. For home games, McGann, his wife and other volunteers put in 10- to 12-hour days to ensure everything went smoothly.
Despite the amount of work required, McGann said, "It was worth it. It was so worth it."
According to McGann, the "hardest part was getting going." After receiving little interest in the planning stages — McGann said only about five families showed up for initial interest meetings — he was worried there wouldn't be enough kids for a league.
Soon though, as word got out, more and more kids started signing up, and recruitment efforts proved successful. As the season progressed, McGann said the kids also made monumental leaps in terms of their knowledge of the sport.
"In the first couple weeks when we first started going full pads for practices, a couple kids had their pads in upside down," McGann said. "You don't what you have to teach until you find out."
McGann said during one game early in the season, one of the kids came down with an interception, but instead of blocking for him, his teammates turned around to run toward him and congratulate him.
"One of the kids said, 'You know, Zach, if you would've had some blocking, you would've scored a home run,'" McGann said.
At the beginning of the season, some of the kids still didn't know all the correct football terminology or the fundamentals of the game.
"Based on what they knew coming in, I would say [they learned] a whole heck of a lot," McGann said. "You're talking about a group of kids who didn't know how to put pads on to [now] understanding what each position on the line is and having an idea of what to do with that position."
As they continued to improve, McGann said he and the other coaches could see the kids really begin to love their teammates — whom coaches called their family — and the games.
"Those kids cared," McGann said.
While none of the three teams won this season, there were several obvious signs of improvement, McGann said. In a rematch with a bigger team during the playoffs, the junior team made it into the end zone a couple of times and cut a final deficit of about 50 points in the earlier matchup to only a couple of touchdowns. The midgets, McGann explained, came close to a couple of wins, as well.
"[If] we keep doing things the right way, setting that foundation, the points [on the scoreboard] are going to change," McGann said. "Eventually we're going to start seeing some wins. To me, that's going to trickle up when then start getting into [playing] JV and varsity. Hopefully Nelson County won't be on the wrong end of every scoreboard you see during football season [for long]. … The future is bright."
While he normally isn't an advocate for "participation trophies," the league rewarded every kid who played a trophy, because "they earned it." Additionally, McGann said he and the league stayed true to the idea that "you can't have an athlete without a student," rewarded each of the student-athletes who were on the A or AB honor roll during that quarter with trophies, as well.
Heather Goodwin, an attorney in Lovingston who was a sponsor for the revival season, already has committed to be a sponsor for the upcoming season. Goodwin said when her family first moved to Nelson years ago, her younger brother played for the then-active youth league and her sister cheered in the league. With her previous experience with youth football programs, she said she understands the importance of the resurgence of the league for the development of the players on and off the field and for the future of high school athletics in the county.
"A local league gives opportunity to those who may be hindered by the expense or time needed to travel for practices after commuting home from work each day," Goodwin said. "Additionally, a local league provides a training ground for middle and high school sports. In years to come, we will see the benefit of this program as young people arrive on the first day of practice with knowledge and skill instead of a need to learn the basic rules of the sport.
"Like most youth recreational sports, Nelson Youth Football has provided an opportunity for education and fellowship. Mr. McGann and the volunteer coaching staff did an incredible job of conveying the importance of sportsmanship and teamwork. To many of these young people, their coaches become a trusted friend and mentor. Hopefully the encouragement they feel as a part of these teams will support them as they strive toward their goals on and off the field. I look forward to watching a few more games next season."
McGann said in the revival season, he also received lots of support from the school division. Varsity players and coaches were excited about kids learning more about the game at a younger age, and Superintendent Jeff Comer, whose son played in the league, was showed his support in tangible ways.   
According to McGann, Comer ran the clock during some games and even showed up ahead of games to line the field.   
Comer was quick to recognize the efforts of McGann and all the other volunteers who dedicated time to help kids learn and enjoy the sport of football.   
"Due to the planning and organizational efforts of Benji McGann as well as the dedicated efforts of other volunteers, I thought the first season back as an organized league went extremely well," Comer said. "As a matter of fact, I anticipated more first-year hiccups, which did not materialize. ... Every team improved dramatically from the first game, and you could see the players gaining more confidence as the season progressed. Having this program in place will not only provide a wonderful activity for the youth of Nelson County, but also begin to lay the foundation for future success at the high school level."  
As the program continues to grow in the coming season, McGann said the board hopes to do some clinics for players interested in playing. He also hopes to continue gaining support from the community by hosting a 5k race and flag football tournament, as well as by locking down sponsors.   
McGann said helmets for each of the players will need to be reconditioned to ensure they are completely safe, and they hope to purchase new shoulder pads.   
"Typically, if you see a football program striving and going forward and creating excitement, that's going to trickle down the other sports, too. Why not Nelson?" McGann said of his belief that the youth program will only serve to help the athletic program at the Nelson County High School. "This last year was a step in that direction. … This year was great, but you can't base it off one year, you have to keep getting stronger every year, and we need parents' support; we need kids' support."  
McGann hopes to begin sign-ups for next season in May. Updates will be posted on the Nelson County Youth Football Facebook page.
Photos by:  Lee Luther, Jr.