NHS

 Athletics: Rockets Review

(8.31-9.7)
Rockets win the prestigious Boston Globe Ames Award!
Congrats to all the players and coaches on this tremendous achievement, the first Ames Award in School History!  The Larry Ames Memorial Award is given for "Overall Excellence in High School Athletics." Needham High School earned this award for having the highest winning % in Division 2 for the 2014-2015 Season. The Rockets ended with a 68.59 win % and 258 total wins, the most of any school in EMass!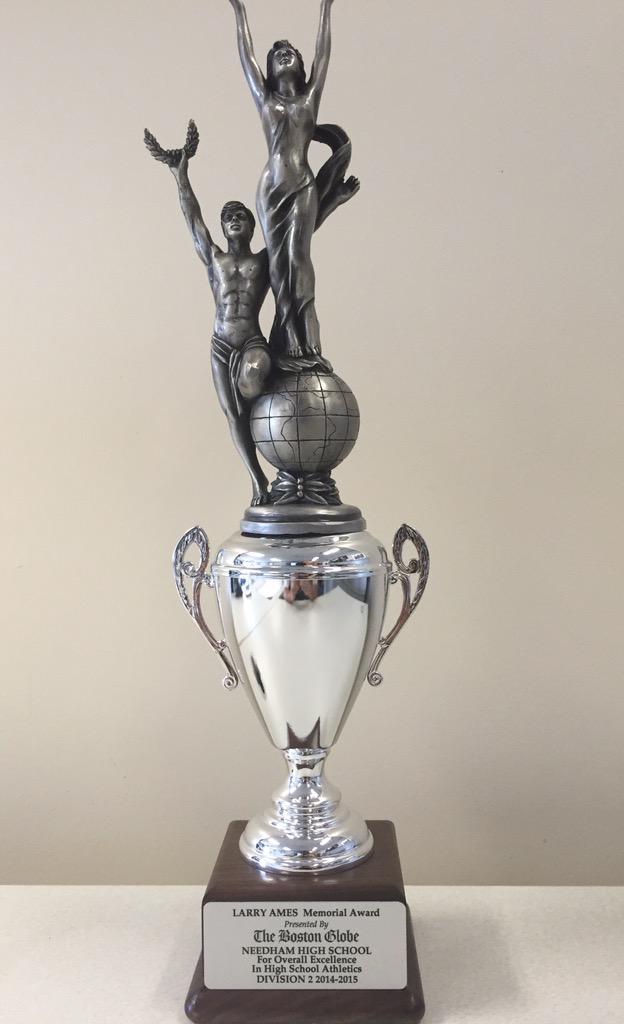 9/3/2015 vs Newton North L 93-79 
NHS

 Athletic Events Schedule 
9.8-9.13 
Home Varsity Events (All Other Home Events)
Away Varsity Events 
(All Other Away Events)
Home Varsity Night Events 
Boys Soccer 300th Cup Game vs Wellesley
| | | | | | | |
| --- | --- | --- | --- | --- | --- | --- |
| Day, Date | Start | Team(s) | H/A | Opponent(s)/Event | Location | Bus Depart |
| | | | | | | |
| Monday | | | | | | |
| 9/7/2015 | | LABOR DAY | | | | |
| | | | | | | |
| Tuesday | | | | | | |
| 9/8/2015 | 3:30 PM | Boys Var Golf | Home | Wellesley HS | Needham Golf Club | |
| 9/8/2015 | 3:45 PM | Boys FR Soccer | Home | Brookline HS | Needham/High Rock | |
| 9/8/2015 | 3:45 PM | Girls FR Soccer | Away | Brookline HS | Brookline/Brookline Ave | 3:00 PM |
| | | | | | | |
| Wednesday | | | | | | |
| 9/9/2015 | 3:45 PM | Boys V/JV Soccer | Home | Brookline HS | DeFazio #1 & #2 | |
| 9/9/2015 | 3:45 PM | Girls V/JV Soccer | Away | Brookline HS | Var-Skyline/ JV- Warren | 2:45 PM |
| 9/9/2015 | 3:45/5:15PM | Girls V/JV Field Hockey | Away | Brookline HS | Brookline/Larz Anderson | 3:00 PM |
| 9/9/2015 | 3:45 PM | Girls FR Field Hockey | Home | Brookline HS | Needham/Pollard | |
| 9/9/2015 | 4:00:00/5:15PM | Girls V/JV/FR Volleyball | Away | Brookline HS | Var-Schluntz Gym/ JV&FR Brookline HS | 3:00 PM |
| 9/9/2015 | 3:45 PM | Boys & Girls Cross Country | Away | BSC Tri @ Norwood with NN | Norwood/Coakley | 2:45 PM |
| | | | | | | |
| Thursday | | | | | | |
| 9/10/2015 | 3:30 PM | Boys Var Golf | Home | Norwood HS | Needham Golf Club | |
| 9/10/2015 | 3:45 PM | Boys FR Soccer | Home | Wellesley HS | Needham/High Rock | |
| 9/10/2015 | 3:45 PM | Girls FR Soccer | Away | Wellesley HS | Wellesley HS | 3:00 PM |
| | | | | | | |
| Friday | | | | | | |
| 9/11/2015 | 3:45 PM | Girls FR Soccer | Home | Walpole HS | Needham/Cricket | |
| 9/11/2015 | 3:45 PM | Boys FR Football | Home | Milton HS | Needham/Memorial | |
| 9/11/2015 | 3:45 PM | Boys JV Soccer | Home | Wellesley HS | Needham/DeFazio | |
| 9/11/2015 | 3:45/5:15PM | Girls V/JV Field Hockey | Away | Wellesley HS | Wellesley/Sprague | 2:45 PM |
| 9/11/2015 | 3:45 PM | Girls V/JV Soccer | Away | Wellesley HS | Wellesley/Sprague | 2:45 PM |
| 9/11/2015 | 4:00:00/5:15PM | Girls V/JV/FR Volleyball | Away | Wellesley HS | Wellesley HS | 2:45 PM |
| 9/11/2015 | 6:00 PM | Boys Var Soccer | Home | Wellesley HS 300th Cup Game | Needham/Memorial | |
| 9/11/2015 | 7:00 PM | Girls Var Swimming | Home | Bishop Feehan HS | Babson College | |
| 9/11/2015 | 7:00 PM | Boys Var Football | Away | Milton HS | Milton HS | 5:15 PM |
| 9/11/2015 | 7:00 PM | Girls Var Cheerleading | Away | Cheer at FB Game | Milton HS | 5:45 PM |
| | | | | | | |
| Saturday | | | | | | |
| 9/12/2015 | 10:00 AM | Boys JV Football | Away | Milton HS | Milton HS | 8:45 AM |
| | | | | | | |
| Sunday | | | | | | |
| 9/13/2015 | | NO EVENTS SCHEDULED | | | | |
Follow us on Twitter @NHSRockets