NHS Athletics: Rockets Review

2.6-2.12
Wrestling (9-10)  All 3 Senior Captains (4 Rockets in all) move on to D1 States!
http://needham.wickedlocal.com/sports/20170207/athlete-of-week-brady-liss

2/8/17 vs Wellesley  L 39-36  
2/11/17 D1 Central Sectionals: Team 6th!
Brady Liss Champ at 126lbs!
David Kurker Champ at 145lbs!
Dan Aksman 2nd at 182Lbs
Carl Serhan 4th at 160lbs!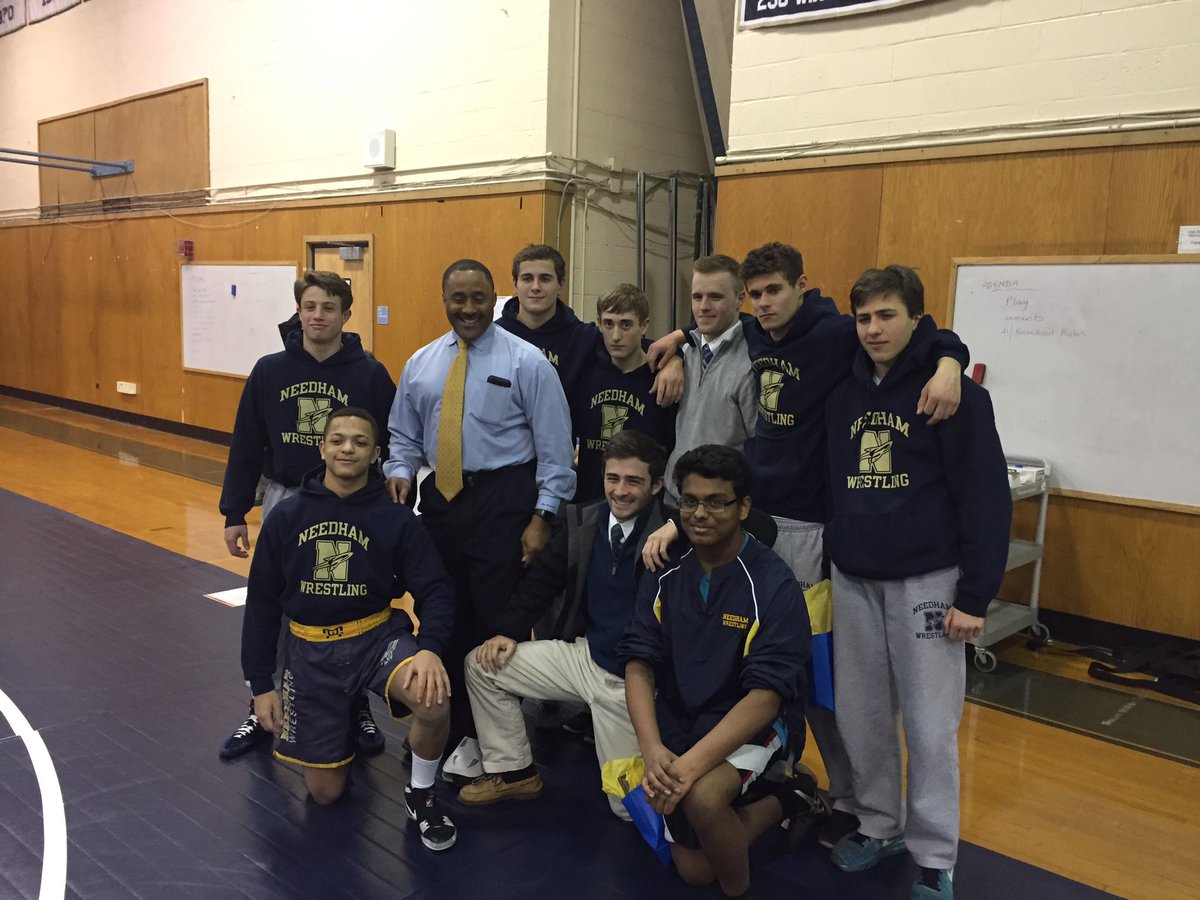 Senior Night
     Kurker in Action                                        Big Team Effort at Sectionals                                                                           Coach Pritchett with Champs David Kurker & Brady Liss
Girls Basketball (8-10)  
2/7/17  @ Dedham  W 60-59  Danielle Rubin with the game winning 3 w/ 6 Sec left!
2/10/17 vs Brookline L 48-37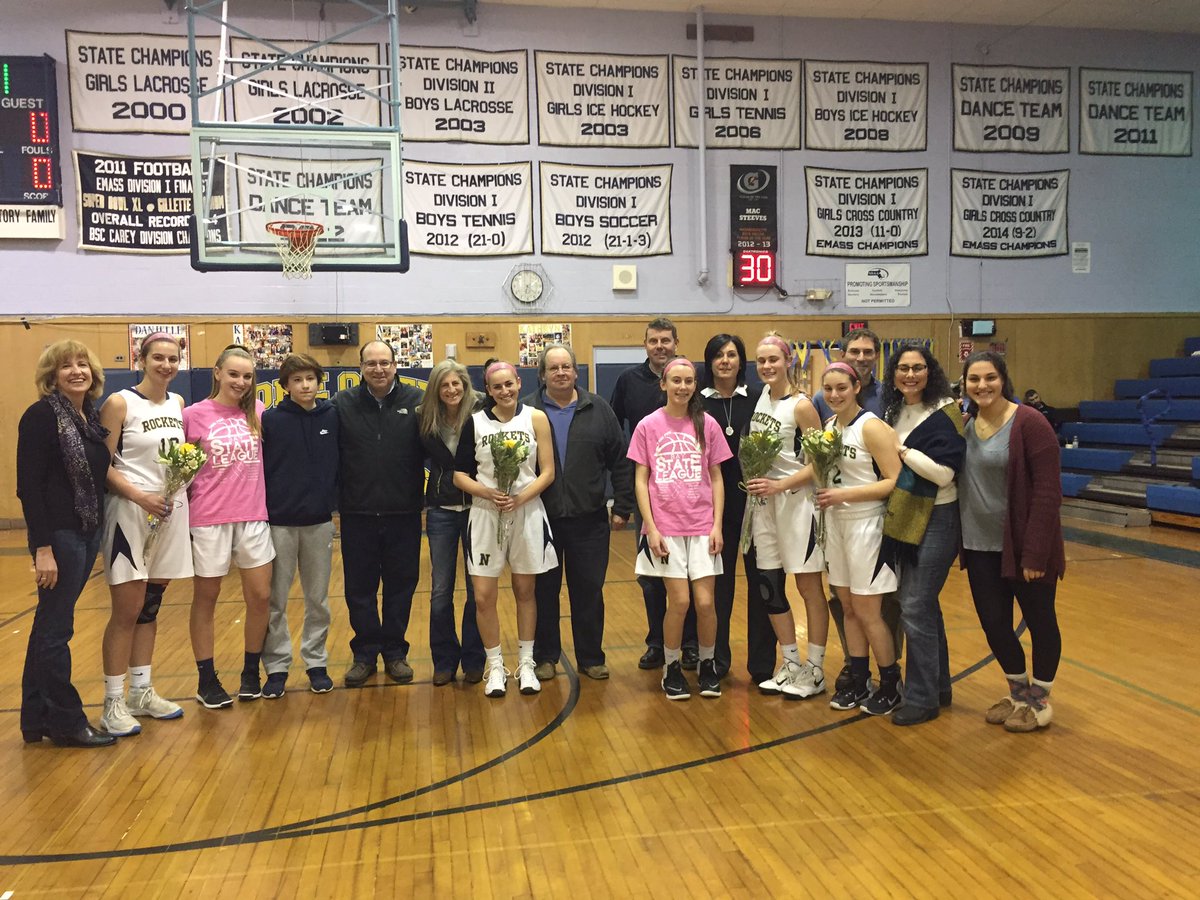 Senior Night
Boys Basketball (15-1)  Rockets are BSC Carey Champions for the 1st time since 1986!
http://needham.wickedlocal.com/sports/20170207/needham-boys-basketball-looks-to-take-two-steps-forward

http://www.bostonherald.com/sports/high_school/high_school_insider/2017/02/high_school_boys_basketball_weekly_super_six_north_0#.WJ8RIZkrLzc.twitter

2/7/17 vs Dedham W 70-35
2/10/17 @ Brookline W 61-44
Boys Ice Hockey (6-9-1) Big week for the Rockets as they keep tourney hopes alive
2/8/17 vs Dedham W 4-1 
Girls Ice Hockey (16-0-1) Undefeated Rockets move up to #2 in the HNIB Poll!  Senior Night is Saturday vs Newton North!
http://www.hnibnews.com/mass-girls-d1-poll-wild-weekend-for-top-teams/

http://needham.wickedlocal.com/sports/20170206/needham-girls-hockey-remains-undefeated-with-five-games-to-go?platform=hootsuite
2/8/17 @ Dedham W 6-0 Sarah McLaughlin with the shutout in Net!

Boys Swimming & Diving (8-0) Rockets move on to States Next Weekend
2/11/17  South Sectional Meet  (Cancelled Due to Snow)
Girls Indoor Track (4-2) 
2/8/17 BSC Championships Elena Oberle wins the 1 Mile! 4x400 Relay takes first! Jessie Hem (2nd) 300, Nicole Stevens (3rd) 600 
Boys Indoor Track (3-3)  
2/8/17 BSC Championships  Top Rocket Finishers:  Steve Flanagan (2nd) @ MIle, Cam McLeod (3rd) 1 Mile, Vik Vikati (6th) Shot Put

Gymnastics (5-4)  
2/7/17 vs Framingham  L 132.7-130.55
2/11/17 BSC Championships: Team 3rd Place!
Megan Tormey (1st) Vault, (2nd) Bars was named All-Around All-Star
Natalie Hallagan (3rd) Beam, (4th)Bars was named Bars All-Star
Amanda Cohen (6th) Bars was named Bars All-Star
Olivia Curran was named BSC Honorable Mention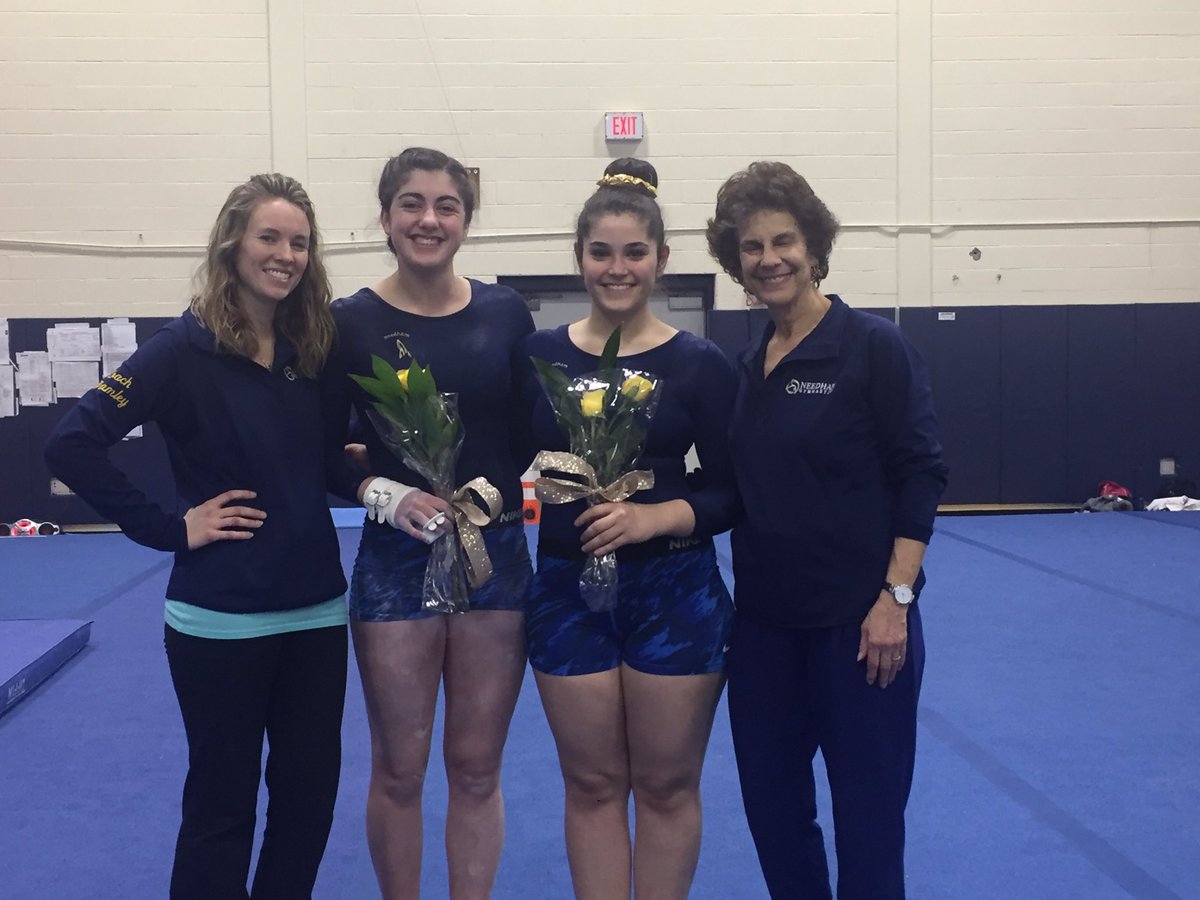 Senior Night
Great Day for the Rockets at the BSC Championships
Boys & Girls Alpine Ski
2/8/17 Ski East Races (Posponed)
Cheerleading  BSC Championships are Wednesday!

2/11/17 Love Cheer Invitational:  Rockets take 2nd!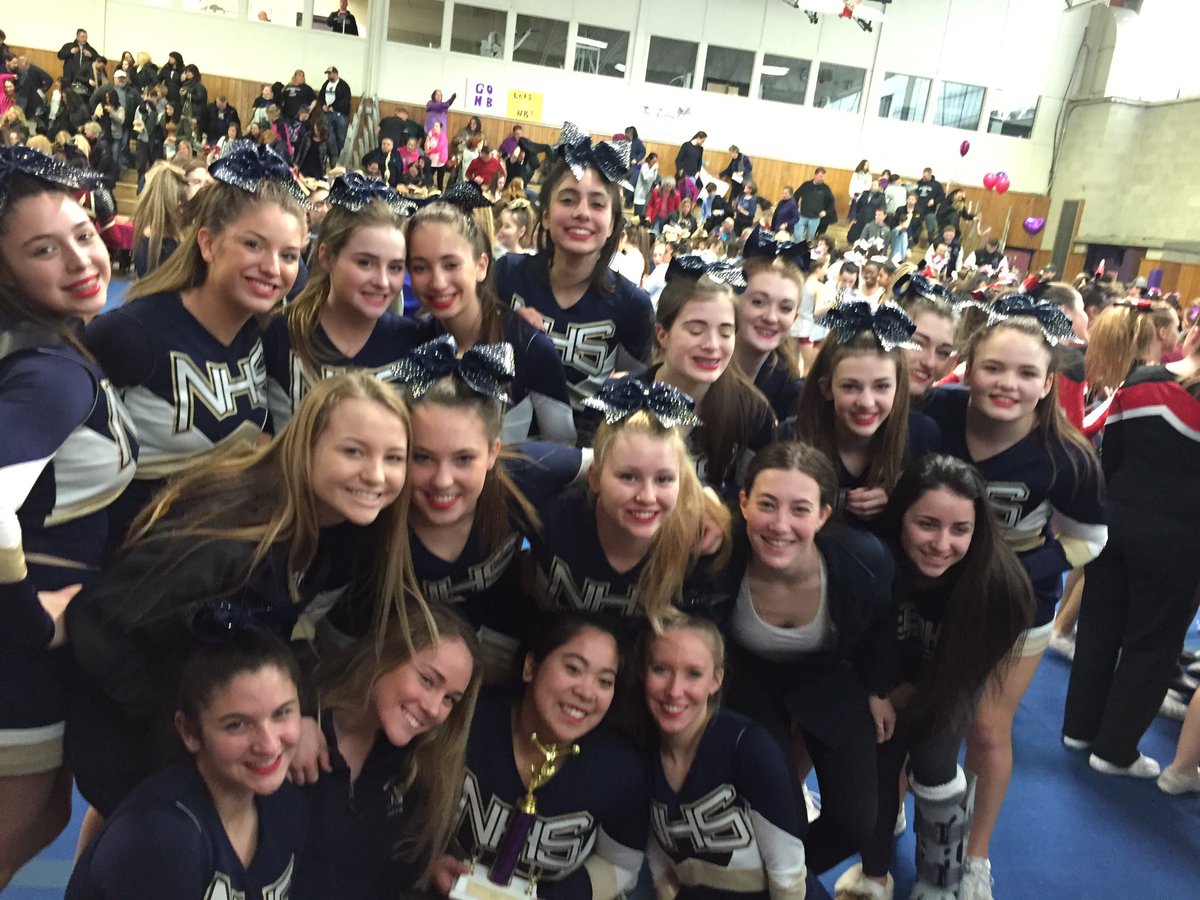 NHS

 Athletic Events Schedule 
2.13-2.26
Home Varsity Events (All Other Home Events)
Away Varsity Events 
(All Other Away Events)
Middle School Events

Boys Swimming & Diving State Championship Meet
D1/All-State Wrestling State Championships
BSC Cheer and Dance Championships

Comcast Boys Basketball Tournament

Barnstable Boys Hockey Tournament
D2 Indoor Track State Championships
| | | | | | | |
| --- | --- | --- | --- | --- | --- | --- |
| Day, Date | Start | Team(s) | H/A | Opponent(s)/Event | Location | Bus Depart |
| | | | | | | |
| Monday | | | | | | |
| 2/13/2017 | 4:00 PM | Girls JV Ice Hockey | Home | Brookline/Newton South | Daly | |
| 2/13/2017 | 5:20 PM | Girls Var Ice Hockey | Away | Shrewsbury HS | North Star Ice Sports (Westboro) | 3:30 PM |
| 2/13/2017 | 6:30 PM | Girls JV Gymnastics | Home | BSC JV GYMNASTICS EXTRAVAGANZA | NHS B Gym | |
| | | | | | | |
| Tuesday | | | | | | |
| 2/14/2017 | 3:45 PM | Boys JV Basketball | Home | Wellesley HS | NHS A Gym | |
| 2/14/2017 | 3:45 PM | Girls JV Basketball | Away | Wellesley HS | Wellesley HS | 3:00 PM |
| 2/14/2017 | 5:15/6:15PM | Boys/Girls Fr Basketball | Home | Wellesley HS Double-Header | NHS A Gym | |
| 2/14/2017 | 5:30/7:00PM | Girls/Boys Var Basketball | Away | Wellesley HS Double-Header | Wellesley HS | 4:00/5:30PM |
| | | | | | | |
| Wednesday | | | | | | |
| 2/15/2017 | 3:45/4:45PM | Girls/Boys MS Basketball | Home | Day MS 2 | Pollard MS | |
| 2/15/2017 | 4:00 PM | Girls JV Ice Hockey | Away | Ursuline Academy | Roche (West Roxbury) | |
| 2/15/2017 | 6:00 PM | Girls Var Ice Hockey | Away | Wellesley HS | Babson College | |
| 2/15/2017 | 6:00 PM | Girls Var Cheerleading | Away | BSC Championship | Braintree HS | 3:30 PM |
| 2/15/2017 | 6:00 PM | Girls Var Dance | Away | BSC Championship | Braintree HS | 3:30 PM |
| 2/15/2017 | 6:00 PM | Girls Club Dance | Away | BSC Championship (Exhibition) | Braintree HS | 6:00 PM |
| 2/15/2017 | 7:00 PM | Boys JV Ice Hockey | Away | Newton North HS | Fessenden Rink | |
| 2/15/2017 | 7:45 PM | Boys Var Ice Hockey | Away | Wellesley HS | Babson College | |
| | | | | | | |
| Thursday | | | | | | |
| 2/16/2017 | 3:45 PM | Boys JV Basketball | Away | Newton North HS | NNHS | 3:00 PM |
| 2/16/2017 | 3:45 PM | Girls JV Basketball | Home | Newton North HS | NHS A Gym | |
| 2/16/2017 | 4:00 PM | Boys JV Ice Hockey | Away | Brookline HS | Brookline/Larz Anderson | 2:45 PM |
| 2/16/2017 | 5:15/6:30PM | Girls/Boys Fr Basketball | Home | Newton North HS Double Header | NNHS | |
| 2/16/2017 | 5:30/7:00PM | Girls/Boys Var Basketball | Away | Newton North HS Double-Header | NHS A Gym | 4:00/5:30PM |
| | | | | | | |
| Friday | | | | | | |
| 2/17/2017 | 5:00 PM | Girls JV Ice Hockey | Home | Hingham HS | Cleveland Circle | |
| | | | | | | |
| Saturday | | | | | | |
| 2/18/2017 | 10:00 AM | Boys Var Wrestling | Away | Divisional Meet | Methuen HS | TBA |
| 2/18/2017 | 3:30 PM | Girls Var Ice Hockey | Home | Newton North HS Senior Night | Babson College | |
| 2/18/2017 | 6:10 PM | Boys Var Ice Hockey | Away | Newton North HS | Ryan Arena | 4:45 PM |
| | | | | | | |
| Sunday | | | | | | |
| 2/19/2017 | 5:30 PM | Boys Var Basketball | Away | Comcast Tournament vs Brighton | Malden Catholic | 3:45 PM |
| 2/19/2017 | 1:00 PM | Boys & Girls Var Track | Away | D2 Championship | Reggie Lewis | 11:15 AM |
| 2/19/17 | 12:00 PM | Boys JV Ice Hockey | Home | Wellesley HS | Cleveland Circle | |
| 2/19/17 | 2:00 PM | Boys Var Swimming | Away | State Meet | BU Agganis Arena Pool | |
| | | | | | | |
| Monday | | | | | | |
| 2/20/2017 | 3:30/5:30PM | Boys Varsity Basketball | Away | Comcast Tournament Finals or Consolation | Malden Catholic | TBA |
| 2/20/2017 | 9:50 AM | Girls Varsity Ice Hockey | Away | Notre Dame Academy--Hingham | Rockland Ice Rink | 8:00 AM |
| | | | | | | |
| Tuesday | | | | | | |
| 2/21/2017 | | NO EVENTS | | | | |
| | | | | | | |
| Wednesday | | | | | | |
| 2/22/2017 | 5:00 PM | Boys Varsity Ice Hockey | Away | Barnstable Tournament vs Barnstable | Hyannis Youth & Community Center | 2:00 PM |
| | | | | | | |
| Thursday | | | | | | |
| 2/23/2017 | 3:00/5:00PM | Boys Varsity Ice Hockey | Away | Barnstable Tournament Finals or Consolation | Hyannis Youth & Community Center | TBA |
| 2/23/2017 | 10:00 AM | Boys JV Ice Hockey | Away | Natick High School | Chase Arena | 8:45 AM |
| | | | | | | |
| Friday | | | | | | |
| 2/24/2017 | | NO EVENTS | | | | |
| | | | | | | |
| Saturday | | | | | | |
| 2/25/2017 | 10:00 AM | Boys Varsity Wrestling | Away | All States | Reading HS | TBA |
| | | | | | | |
| Sunday | | | | | | |
| 2/26/2017 | | NO EVENTS | | | | |
Follow us on Twitter @NHSRockets