NHS Athletics: Rockets Review

1.3-1.8
On Sunday, Rocket Boys Basketball took on rival Wellesley High School in a MIAA Endowment Game on the famed parquet floor of the TD Garden! Needham came away with a 47-32 win!  NHS Cheerleaders took part in the action and the JV Boys Team beat Wellesley in a halftime exhibition!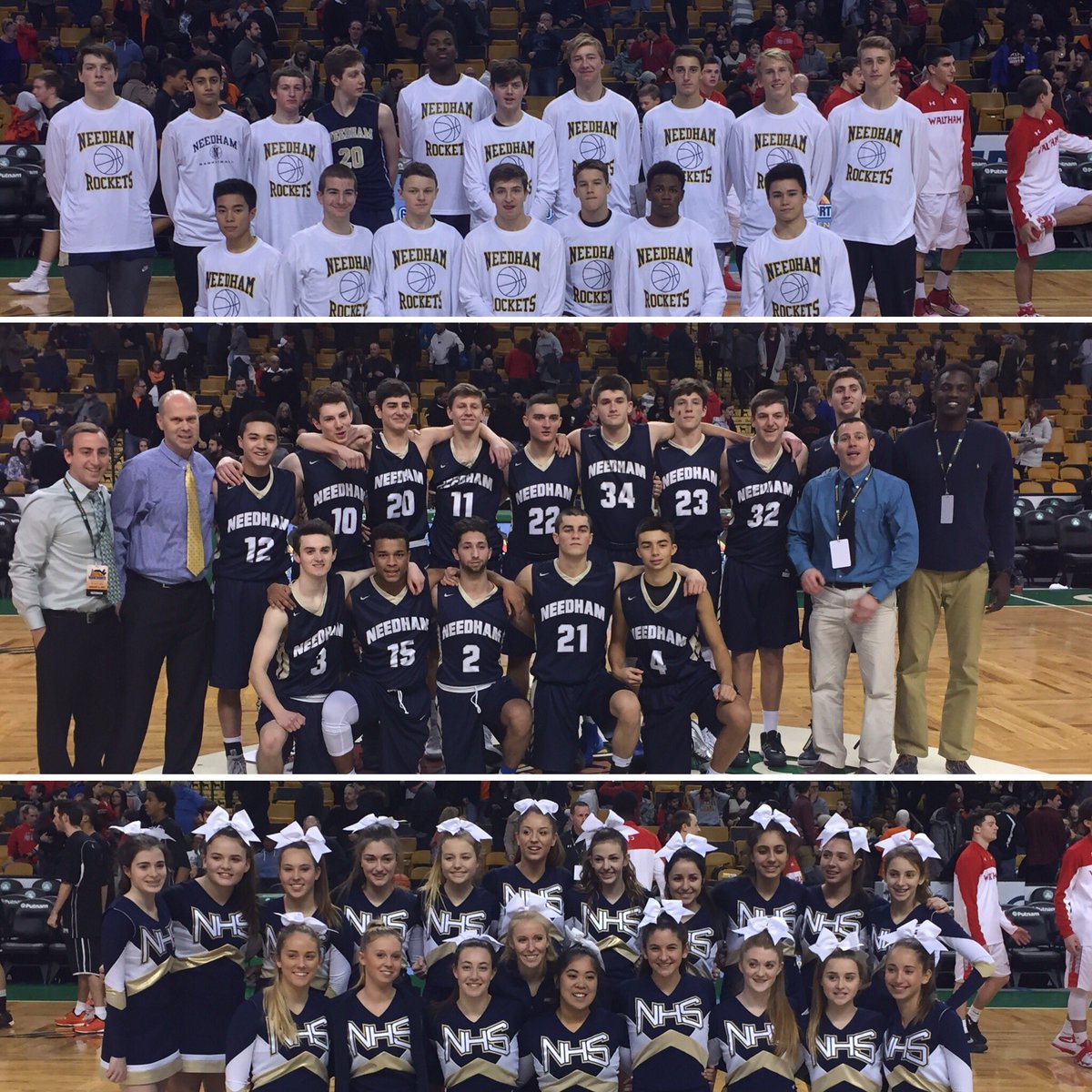 Wrestling (5-3)  
1/4/17 vs Natick L 38-21       
1/7/17 Brendan Grant Memorial Tournament    Dan Aksman wins Tourny at 182 Lbs! Brady Liss 2nd at 126lbs!  David Kurker 2nd at 145lbs!
Girls Basketball (3-4) 
1/3/17 vs Weymouth W 50-26
1/6/17 vs Braintree L
Boys Basketball (6-0)  Rockets check in on the Boston Herald Super 6 for D1 South
http://www.bostonherald.com/sports/high_school/high_school_insider/2017/01/high_school_boys_basketball_weekly_super_six_north#.WHD6D_zW4-Y.twitter

1/3/17 @ Weymouth W 60-52 *OT
1/6/17 @ Braintree W 69-48
1/8/17 vs Wellesley @ TD Garden  W 47-32
Boys Ice Hockey (2-3-1) 

http://needham.wickedlocal.com/sports/20170103/needham-boys-hockey-looks-for-turnaround-season?platform=hootsuite

1/4/17 @ Weymouth L 6-4
1/7/17 @ Braintree PPD
Girls Ice Hockey (4-0-1) Girls stay at  #5 in HNIB  poll

http://www.hnibnews.com/mass-girls-d1-poll-light-week-results-in-minimal-movement/

1/4/17 vs Weymouth W 6-1
1/7/17 vs Braintree PPD
Boys Swimming & Diving (3-0) 

NHS

 Athletic Events Schedule 
1.9-1.15
Home Varsity Events (All Other Home Events)
Away Varsity Events 
(All Other Away Events)
Home Varsity Night Events
Middle School Events
MSTCA D2 Indoor Track Relays
| | | | | | | |
| --- | --- | --- | --- | --- | --- | --- |
| Day, Date | Start | Team(s) | H/A | Opponent(s)/Event | Location | Bus Depart |
| | | | | | | |
| Monday | | | | | | |
| 1/9/2017 | 4:30 PM | Girls Var Ice Hockey | Home | Wellesley HS | St Sebastians | |
| | | | | | | |
| Tuesday | | | | | | |
| 1/10/2017 | 3:45 PM | Boys Fr Basketball | Away | Walpole HS | Walpole HS | 2:45 PM |
| 1/10/2017 | 3:45 PM | Girls Fr Basketball | Home | Walpole HS | NHS A Gym | |
| 1/10/2017 | 5:00/6:30 PM | Boys JV/V Basketball | Away | Walpole HS | Walpole HS | 3:45 PM |
| 1/10/2017 | 5:00/6:30 PM | Girls JV/V Basketball | Home | Walpole HS | NHS A Gym | |
| | | | | | | |
| Wednesday | | | | | | |
| 1/11/2017 | 3:20 PM | Girls JV Ice Hockey | Home | Marthas Vineyard | St Sebastians | |
| 1/11/2017 | 3:45PM/4:45PM | Boys/Girls MS Basketball | Away | Newton Brown MS | Newton Brown MS | 2:35 PM |
| 1/11/2017 | 4:00 PM | Boys & Girls Var Skiing | Away | Ski East Races | Blue Hills | |
| 1/11/2017 | 6:40 PM | Girls Var Ice Hockey | Home | Walpole HS | Babson College | |
| 1/11/2017 | 6:45 PM | Boys & Girls JV Indoor Track | Away | JV Meet | Milton HS | 5:30 PM |
| 1/11/2017 | 7:00 PM | Boys Var Wrestling | Away | Walpole HS | Walpole HS | 5:30 PM |
| 1/11/2017 | 8:00 PM | Boys Var Ice Hockey | Away | Walpole HS | Rodman Arena (Walpole) | 6:30 PM |
| | | | | | | |
| Thursday | | | | | | |
| 1/12/2017 | 3:45PM/4:45PM | Boys/Girls MS Basketball | Away | Newton Day 1 | Days MS (Newton) | 2:35 PM |
| 1/12/2017 | 4:00 PM | Boys & Girls JV Skiing | Away | JV Races | Blue Hills | |
| 1/12/2017 | 4:45 PM | Boys JV Ice Hockey | Away | Brookline HS | Brookline/Larz Anderson | 3:30 PM |
| | | | | | | |
| Friday | | | | | | |
| 1/13/2017 | 3:45 PM | Boys Fr Basketball | Home | Brookline HS | NHS A Gym | |
| 1/13/2017 | 3:45 PM | Girls Fr Basketball | Away | Brookline HS | Brookline HS | 2:45 PM |
| 1/13/2017 | 4:30 PM | Boys & Girls Indoor Track | Away | MSTCA D2 Relays | Reggie Lewis | 3:00 PM |
| 1/13/2017 | 5:00 PM | Girls Var Gymnastics | Away | Newton North HS | Newton North HS | 3:45 PM |
| 1/13/2017 | 5:00/6:30 PM | Boys JV/V Basketball | Home | Brookline HS | NHS A Gym | |
| 1/13/2017 | 5:00/6:30 PM | Girls JV/V Basketball | Away | Brookline HS | Brookline HS | 3:45 PM |
| 1/13/2017 | 7:30 PM | Boys Var Swim & Dive | Away | Natick HS | Keefe Tech | 6:00 PM |
| | | | | | | |
| Saturday | | | | | | |
| 1/14/2017 | 6:45 PM | Boys Var Ice Hockey | Home | Brookline HS | Babson College | |
| 1/14/2017 | 7:00 PM | Girls Var Ice Hockey | Away | Brookline HS | Walter Brown Arena (BU) | 5:30 PM |
| | | | | | | |
| Sunday | | | | | | |
| 1/15/2017 | 12:00 PM | Girls Var Basketball | Home | Roselle Catholic HS | NHS A Gym | |
| 1/15/17 | 12:00 PM | Boys JV Ice Hockey | Home | Lexington HS | Cleveland Circle | |
| 1/15/17 | 12:50 PM | Girls JV Ice Hockey | Away | Newton North HS | Fessenden Rink | |
Follow us on Twitter @NHSRockets