Rafa's health
Subscribe to posts
21 Sep 2011 18:45 
Rafael Nadal recently underwent a sweat test at the University of Castilla-La Mancha, where he was put through his paces by a professor who test his performance under extreme conditions.
"With this data, we will be able to recommend for Rafa the best strategies for rehydration and nutrition before and during a match," the professor in charge of the study said. "The performance of an elite tennis player depends on technical and physiological factors. The heat, whether it accumulates in the tissues of the body, can reduce power and thus the performance."
Nadal recently played in a Davis Cup tie against France, where he played in some very difficult conditions.
http://www.tennisworldusa.org/Nadal-Undergoes-Tests-At-University-articolo1502.html


Toni Nadal, uncle and coach Rafa Nadal, said the Spaniard player suffers no fracture in his left foot, against which publishes in the British newspaper The Times. Nadal will be in the tournament in Montreal, as planned, which is played in just over a month.

The Times has reported that Nadal has a "small fracture in his left foot," which occurred during his fourth round match against Argentine Martin del Potro. This injury would have him away from the tracks for six weeks.

However, Toni Nadal said that " information is not true . He's going to play in Montreal, as we had planned. " Nadal, who lost the Wimbledon final to Djokovic and gave the world number one to the Serbian, infiltration has played the last three matches of the tournament.

Toni Nadal, tío y entrenador de Rafa Nadal, aseguró que el tenista balear no sufre ninguna fractura en su pie izquierdo, en contra de lo que publica el rotativo británico 'The Times'. Nadal estará en el torneo de Montreal, como tenía previsto, que se juega dentro de poco más de un mes.

'The Times' ha publicado que Nadal tiene una "pequeña fractura en su pie izquierdo", que se produjo durante su partido de octavos frente al argentino Martín del Potro. Esta lesión le tendría apartado de las pistas durante seis semanas.

Sin embargo, Toni Nadal aseguró que "la información no es cierta. Va a jugar en Montreal, tal y como lo tenía programado". Nadal, que perdió la final de Wimbledon ante Djokovic y cedió el número uno del mundo al serbio, ha jugado infiltrado los tres últimos partidos del torneo.
by

freakyfrites

on

July 3, 2011 ·

Rafael Nadal said he felt like he'd broken his foot during his Round of 16 vs. del Potro last week. He decided to play on after seeing the results of and MRI, though he admitted to reporters that his foot was "not fine" and he was taking anesthetic injections to dull the pain. It turns out that he's suffered a hairline fracture to his left foot and he could be out of the game for most of the summer. According to tennis.com, Nadal told the Spanish press after his loss today in the final that he "would not return to the practice courts until he was completely healed physically and mentally."
A hairline fracture to the foot is a common sports injury. It's a small sliver or crack to the bone caused after "unusual or repeated stress" and also heavy continuous weight on the ankle or leg. Olympic class athletes in high-impact sports – like Rafa – often fall victim to this injury because they're basically stressing out the bones in their feet over and over again until something, well, cracks. According to Wikipedia:
Rest is the only option for complete healing of a stress fracture. The amount of recovery time varies greatly depending upon the location, severity, the strength of the body's healing response and an individual's nutritional intake. Complete rest and a cast or walking boot are usually used for a period of four to eight weeks, although periods of rest of twelve to sixteen weeks is not uncommon for more severe stress fractures. After this period activities may be gradually resumed, as long as the activities do not cause pain. While the bone may feel healed and not hurt during daily activity, the process of bone remodeling may take place for many months after the injury feels healed, and incidences of re-fracturing the bone is still at significant risk. Activities such as running or sports that place additional stress on the bone should only gradually be resumed. One general rule is to not increase the volume of training by more than 10 percent from one week to the next.
So, if best case Rafa's out for six weeks (and that's majorly wishful thinking at this point) he's going to be pushing it to be ready for Cincinnati. He'll most definitely miss Montreal. It's highly likely that the US Open will be his first hard court tournament of the summer and there's a possibility he'll miss it all together. *Alarm bells!* Though I assume he has the best doctors on the case, playing through pain with the help of anesthetics – as he did for the quarters, semis and final at Wimbledon – can do major harm to an already injured area because you don't feel the harm you're doing until after it's done. *More alarm bells*
This puts a damper in the ATP's major storyline, doesn't it?
By
Dimitri Kay
(Contributor) on January 11, 201
Rafael Nadal is at it again. The season has not even started, and already there has been trouble with his fitness.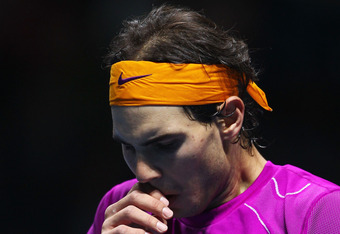 Of course the reason for his fitness problems last week in Doha was just a plain old fever, but the way he handled this uninviting problem is what stands out.
Every year aside from 2010, Nadal has admitted to being fatigued when the US Open came along. The main reason for this problem was because of his cramped-up schedule.
His wrong decisions to over-exert himself during the clay swing always came back to haunt him, and wrong decisions again this year seem to have Nadal fatigued before the first grand slam of the year.
After beating Lacko in the quarterfinals in Doha, Nadal stated:
"I wasn't physically 100 percent, no? I had fever two days ago. Last night wasn't perfect, too. So I felt with less power than usual. I feel a little bit tired for the moments…"
So after playing the World Tour Finals and resting for about a week, the Mallorca native went back to training in order to play two exhibition matches with his main rival Roger Federer.
Although the matches were created for a good cause (money from each match went to their respective foundations), playing them did not help defend Nadal's or Federer's constant bickering on how the ATP Tour has no offseason.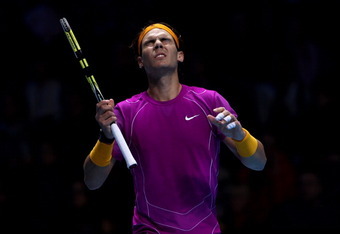 Julian Finney/Getty Images
"It's impossible to be here playing like what I did the last five years, playing a lot of matches and being all the time 100 percent without problems," Nadal said last year in Shanghai.
"It's impossible to play 1st of January and finish 5th of December."
For him to be saying this it means that he understands his body. He acknowledges the fact that he cannot sustain his body in near perfect condition for a whole year without having a sufficient enough break.
Nevertheless, this year, by playing the two exhibition matches, he actually finished the year with Federer later than the ATP full season. To add to this, nobody forced him to play these extra matches.
In Doha the clay-loving Spaniard admitted to not having a holiday between the 2010–2011 seasons. However, he went to Doha playing in both the singles and doubles brackets.
After his match with Lacko, he was asked whether he would be 100 percent fit for his next match. "No. I think I gonna be a little bit tired, but I am here to try my best. For sure my goal is to try to win tomorrow and try to be at my 100 percent."
He played the resurgent Davydenko in the semifinals where he just avoided a second set bagel. During the match he called for a timeout, where he complained about not having any energy left, and feeling very tired. He stayed on court to finish the match, then went on to play a doubles match later in the day.
Last year Nadal did not play any Davis Cup ties, nor did he pack the clay swing with the Barcelona Banco Sabadell tournament. This year he is planning to play both, meaning that his schedule will again include a busy clay swing.
As I once pointed out in an older article, Rafa is in danger of burning himself out. By not taking it easy in the offseason, and by not pulling out of the Doha tournament, the current No. 1's busy schedule could come back to haunt him.