Virtual Book Tour September 3 - September 28
Mandy Baggot is a self-confessed Twitter addict who likes to sing on You Tube. She regularly guests on book blogs and is a featured author on the innovative website loveahappyending.com. She is also a member of the Romantic Novelists' Association.
Taking Charge is her fifth novel. Mandy lives near Salisbury, Wiltshire, UK with her husband and two daughters.
Twitter Handle: @mandybaggot
BUY LINK
Grab the Button:
<a href="https://sites.google.com/a/myaddictionisreading.com/publisher-tours/mandy-baggot" target="_blank"><img src=" http://i1249.photobucket.com/albums/hh501/myreadingaddiction/Summer%20Blog%20Tours/badge-58.jpg" alt="Reading Addiction Blog Tours" width="200" height="204" /></a>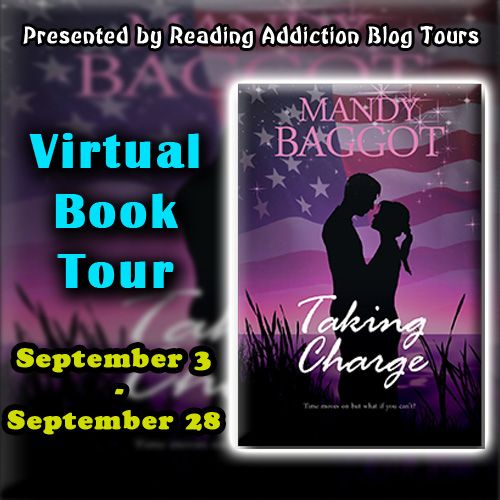 <a href="http://s1249.photobucket.com/albums/hh501/myreadingaddiction/Summer%20Blog%20Tours/?action=view&amp;current=banner-58.jpg" target="_blank"><img src="http://i1249.photobucket.com/albums/hh501/myreadingaddiction/Summer%20Blog%20Tours/banner-58.jpg" border="0" alt="Photobucket"></a>