Congratulations
to Nathaniel Henley
 for earning an Honorable Mention for his artwork in the University of Illinois 'Small Works Art Show'! 
Congratulations to the following MCHS art students that have artwork 
accepted into the Yeiser Art Museum Teen Spirit Art Exhibit in Paducah, KY.
Erin Burkhart (2 pieces)
Ambie Reed
Brandi Mitchell
Cannon Lewis
Jillian Bremer (2)
Kara Story (2)
Mahailee Parker (2)
Nathaniel Henley (2)
Sam Coram
Kalen Miller
Sophie LaMontagne
Autumn Johnson (2)
Seth Higgerson (3)
The exhibit dates are December 3 - 16th with the Opening Reception on Sunday, December 3 from 2 - 4
Yeiser received 266 entries from eight high schools with 100 pieces accepted into the exhibit.  Massac represents 21 of that selection.
Use the Remind App to stay informed of contest due dates for your artwork.  Text @mrsbazor to number 81010
Is art an important class?  Find out why it is by reading the article:
Nine Reasons to Study Art in High School:
http://www.studentartguide.com/articles/reasons-to-study-art
See Syllabus page for class information.
Visit Links for art opportunities.
Art Club link will post dates of upcoming art club meetings
Competition link will post upcoming art competitions you may be interested in.
The Art Guild recently took a field trip to Lowertown Paducah.  Students visited the Paducah School of Art, the studios of Fred Fairchild, Pinecone Gallery with Jay and Char Downs and Michael Crouse with Broken Stone Press.  We were also able to fit in lunch at Kirchoff's Bakery :)
Art Guild Students were recognized at the Academic Awards Ceremony April 20th.  Sydney Austin was awarded the Most Outstanding Art Student.  
Click on the Student Artwork link for a slideshow of artwork.
Congratulations to Sydney Austin!!!
Scholastic Art and Writing Awards of 2017 - Silver Medal
Sydney has been identified by a panel of creative professionals as one of the most talented young artists and writers in the nation.  This year, more than 330,000 works of art and writing were submitted.  Only the top 1% were recognized at the national level.
and
Congratulations to the following students who won awards at the Shawnee College High School Art Contest this past weekend:
1. Autumn Colfield - 1st place Photography
2. Coralle Johnson - 3rd place Photography
3. Maddie Walquist - 1st place Fabrics
4. Sophie LaMontagne - 2nd Place Collage
5. Sydney Austin - 1st Place Pastel
6. BriAunna Lyons - 2nd Place Pastel
7. Lydia Hosman - 3rd Place Pastel
The next art contest is with Shawnee College at Ullin, IL.  Bring artwork you would like to enter by Friday, February 24th.  Students will vote for their top 20 choices to compete in the contest.
The Quilt Museum is sharing a collection of quilts with the theme:  Neighborhoods Coming Together February 17 - April 11, 2017.  The National Quilt Museum is located at 215 Jefferson Street in Paducah, Ky.
The Clemens Fine Art Center in Paducah, KY is presenting ArtRAGEous! Sunday, March 5 at 3pm.  Adult $30 and Student $15.  Artists, musicians, singers and dancers pay tribute to a variety of art forms. 
Besides my own artwork, student artwork is on exhibit at the Paducah School of Art and Design's Legacy and Bright Futures Exhibit
 including: Kara Story, Seth Higgerson, Sydney Austin, Maddie Walquist, Katie Pugh, Tristyn Allbritten and Alayna Reed.
You may contact me, Cindy Bazor, at:  cbazor@massac.org
Congratulations to Seth Higgerson and Sydney Austin, winners of Scholastic Art Awards!
Seth won a Silver Key for his drawing ' Comic Ideas'.
Sydney won a Honorable Mention for her photo 'Surrender' and a Gold Key for her painting 'Blinding'.  Sydney's Gold Key is also one of five 'American Visions Nomimee' and will go on to compete at the New York National level.
This exhibition runs from Jan. 15 - Feb. 5 at Cedarhurst Art Museum in Mt. Vernon, IL.
Congratulations

to

Tristyn Allbritten

who won an Honorable Mention for her entry into the 'Mini Art Show' at University of Illinois!
Congratulations to the following students who have artwork accepted into the Yeiser Art Musuem Teen Spirit Art Contest:
Autumn Cofield (2)
Bri Bates (3)
Coralle Johnson (3)
Erin Burkhart
Kaylee Fraser
Maddie Walquist (2)
Mahilee Parker
Sierra King (2)
Sydney Austin
Tristyn Allbritten
400 pieces were submitted from 9 local high schools and only 102 were selected.  19 of those are from Massac!
The Teen Spirit Exhibit Opening is Sunday, December 4, 2 -4pm at the Yeiser Art Museum located at 200 Broadway, Paducah, KY.   The exhibit runs through December 17th.
Portfolio Days!
Meet art school representatives from across the country.  Learn how to prepare your portfolio and where to get financial aid.  Each of the locations listed will have numerous schools available to talk to.
Augustana College, Rock Island, IL, November 19 and January 14
New Artwork added to 'Student Artwork'!
Check specific pages on the left to see artwork posted through out the school year.
Welcome Back MCHS students!  I look forward to meeting the new Art I students and catching up with returning art students. 
The syllabus is available by clicking on the page provided.  
Please note all Art I students are asked to bring a sketchbook, preferably spiral and approximately 9"x 12".  
Paducah School of Art and Design's (PSAD) 2016 Annual Faculty Exhibition will open with a free reception Thursday from 5-7pm in PSAD's Bill Ford Gallery, 905 Harrison St. in Lower Town Paducah.  The exhibition will remain on display through the end of September.
2015/2016
Field Trip!
Recently, art students whose artwork won an award or was accepted into an art exhibit were rewarded with a trip to Lower Town Paducah.  The picture represents only those able to attend.  We visited PAPA Gallery, Yeiser Gallery, Terra Cottage Studio and the new Paducah School of Art building.  The rain held off for the most part and we topped the day off with lunch at Kirchoff's.
Congratulations to Cannon  for winning the Scholarship to the Summer Art Workshop at Murray State University.  Cannon is holding his winning piece 'The Wave'.
Congratulations to Lacy  for being accepted into the  Ringling College of Art and Design in Sarasota, Florida!!
Madison  and Lexi 
Seth 
Alyssa 
Alyssa 
  Art II made tape sculptures and set them around the school.  See More at the Art II link.
.
Congratulations!!!
The following art students won awards at the Shawnee College High School Art Exhibit:
Sydney Austin – 1st Place - Painting
    2nd Place - 3D
Sydney Strong – Honorable Mention - Painting
Erin Burkhart – Honorable Mention  - Drawing
Briella Henderson – Honorable Mention -  Graphics
Stephanie Dominguez – 3rd Place  - Drawing
Seth Higgerson – 2nd place  - Drawing
Nathaniel Henley – Honorable Mention -  Drawing
The Exhibit runs through Wednesday
 1st Place Painting, 'Blinding'
 Stephanie, 2nd Place Drawing, 'Doe Eyes'
 Nathaniel , Honorable Mention, 'The Super Mice'
 Seth  2nd Place, 'Morning in Paris'
 Display of Artwork at the Exhibit.  Cannon , 'The Wave', top left. Lacy , 'Asylum', top right. Tristyn , ' Four Seasons Farm, middle.
Sydey, 2nd Place, 'Alice'
 Erin  Honorable Mention, 'The Dapper Wolf'
 Sidney  Honorable Mention, 'The Best is Yet to Come'
Twenty pieces of art have been delivered to Shawnee Community College to be entered into their High School Exhibition.  The artwork will be competing against other local schools for ribbons and monetary prizes.  The Opening in Saturday, March 12, 7pm at the Ullin location.   Refreshments, music and judge commentary will be available. 
Congratulations to Sydney Austin for winning Best Painting for her piece "Breakfast" at the Yeiser Art Center Teen Spirit Exhibit!  Her work was selected from more than 350 works submitted and over 150 chosen to show in the exhibit. 
Artwork by the following students was accepted into this year's
Yeiser Teen Spirit Show
: Lacy Thomas, Madison Walquist (2), Sidney Strong, Sydney Austin (2), Claire Russell, Jonathan Hodges, Mecca James, Sophia LaMontagne (2), Cannon Lewis, Stephanie Dominguez (2), Tristyn Allbritten (2)
 The opening reception will be
Sunday, January 

17
 from 
2 - 4 p.m.
at the Yeiser Art Center. Awards will be announced starting
2:30 p.m.  
Good Luck!
(Four scenes of her grandfather's farm in four seasons painted on her great-grandfather's saw)
" Sunflowers"
Collage
Madison Walquist
"Fanta Zero"
Acrylic Paint
 Sophia LaMontagne
" Shipwrecked"
Altered Book
 Sidney Strong
"Smile"
Acrylic Paint
Sophia LaMontagne
"Dinner Time"
Collage
Claire Russell
"Retro Style"
Acrylic Paint
Stephanie Dominguez
"Wilderness"
Color Pencil
Stephanie Dominguez
"Assylum"
Acrylic Paint
Lacy Thomas
"Dazed Tree"
Collage with CD pieces
Tristyn Allbritten
"Wave"
Acrylic Paint
Cannon Lewis
"High Society"
Acrylic Paint
Mecca James
Recently, the artwork of Freshman art student Seth was on exhibit at First Missionary Family Life Center, in Metropolis.
These are the entries sent to University of Illinois' Itsy Bitsy Contest.  All artwork was required to be completed on a 6"x 6" piece of paper.  Best of Luck!   Two students received Honorable Mentions!  Briella Henderson and Mecca James!
   Zack Ringstaff
  Seth Higgerson
Click on  'Links" for information regarding introductory art classes for students at the Paducah School of Art and Design as part of the West Community and Technical College's fall community education offerings. 
Congratulations to Nathaniel Henley for winning the Safe Electricity School Video Challenge!!
 https://vimeo.com/141495105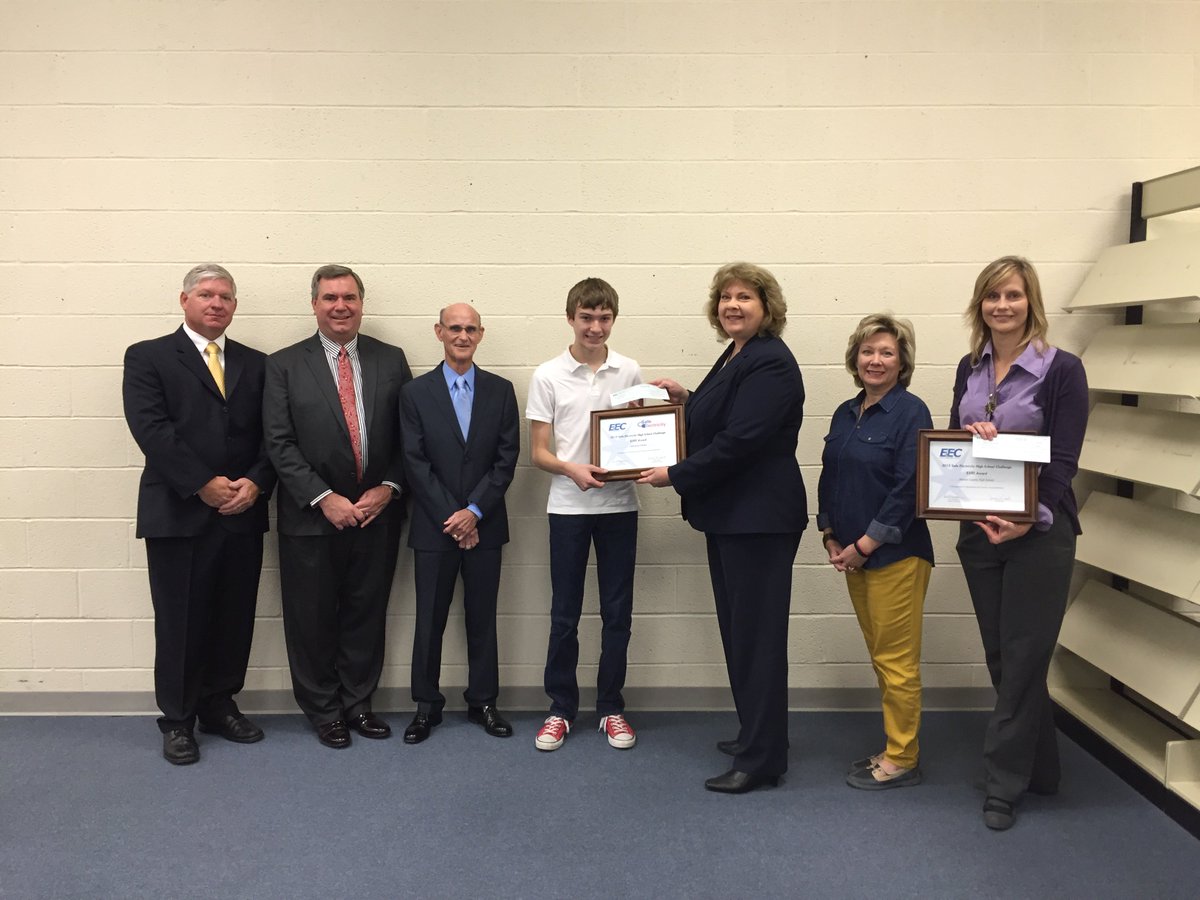 The first Competition is fast approaching.  The Itsy Bitsy Contest is sponsored by University of Illinois and is simply artwork that fits on a 6"x6" piece of paper.  The due date is November 20th.  
See new Competitions link on left to find an art contest you may be interested in entering. 
The MCHS Art Department encourages any MCHS student interested in art to take classes regardless of ability.  Art I begins with learning drawing techniques and continues with lessons in portraiture, architecture, painting and watercolor.   Art II through Art IV classes develop skills learned and explore other media and artists.
Check the other links for updates in those classes.  
Art Club will meet once a month.  Students will be informed of date and time via announcements and posted information in the art room and bulletin board by the guidance office.  Most meetings are after school for approximately one hour. 
Seventeen Art III and Art IV students recently traveled to St. Louis to visit the Catholic Basilica of St. Louis, The St. Louis Art Museum and the City Sculpture Garden.  Students were awed by the beautiful mosaics in the basilica and enjoyed a close-up view to artwork they've only seen in books and on posters. 
The MCHS Art Department includes general art classes for beginning art students and advanced art classes for students wanting to become more proficient in art.  
Art students may enter art contests, prepare college portfolios and become involved in art club.
See the sidebar for more specific class descriptions.
Click on student artwork at left to see new student work
A man paints with his brains and not with his hands.
Art and Innovation
One definition of art is that it shows you something you hadn't quite imagined but can't quite forget. John Maeda, president of the Rhode Island School of Design, believes that art is an essential component for innovation in this digital age. You may not be Van Gogh or Beethoven (and might never want to be), but learning the way artists perceive—and change—the world around them creates mental and intellectual agility. Students of art and design are often innovators, says Maeda, "people that can see differently, that can solve problems differently." Maeda should know, having gone to art school and MIT at the same time. He also understands that the impact of art is hard to measure. But that shouldn't be a negative. Precisely because the effect of art is not quantitative—it is so un-digital—it is the human element that's vitally needed as people and machines work ever more closely together. When art is integrated with science, technology, engineering, and mathematics—think STEAM instead of STEM—you get "new ways of knowing and new ways of thinking." In fact one thinks of Steve Jobs, whose innovations were quite remarkable works of technology, of design, and, yes, of art.
By Christopher Dickey, Newsweek
STEM = Science, Technology, Engineering and Math
STEAM = Science, Technology, Engineering, ART and Math = Innovation!