The time to begin writing an article is when you have finished it to your satisfaction.  By that time you begin to clearly and logically perceive what it is you really want to say.  ~Mark Twain
The difference between the almost right word and the right word is really a large matter - it's the difference between the lightning bug and the lightning.  ~Mark Twain
We write frankly and fearlessly but then we "modify" before we print.
- 
Life on the Mississippi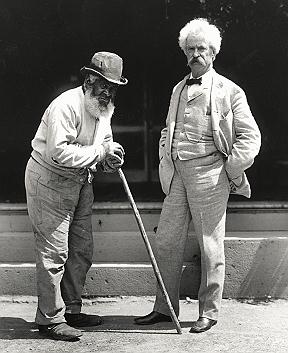 I have no race prejudices, and I think I have no color prejudices or caste prejudices nor creed prejudices. Indeed I know it. I can stand any society. All that I care to know is that a man is a human being--that is enough for me; he can't be any worse. ~Mark Twain
Mark Twain Has Lost a Black Cat.
From the New York American.
Have you seen a distinguished looking cat that looks as if it might be lost? If you have take it to Mark Twain, for it may be his. The following advertisement was received at the American office Saturday night:
A CAST LOST - FIVE DOLLARS REWARD for his restoration to Mark Twain, No. 21 Fifth avenue. Large and intensely black; thick, velvety fur; has a faint fringe of white hair across his chest; not easy to find in ordinary light.
- reprint in Kansas City Star, April 5, 1905