Week of April 23 - April 27

Welcome to sixth grade!
Use our class website as a weekly resource to stay organized, 
practice, and study!
Please ask your student to review their take-home 
planner with you every day.  Using the planner will help your 
student be prepared for the rigors of 7th and 8th grade and 
assists them in developing the organizational skills 
needed
 for 
success 
in the years ahead.
Week of April 23 - 27
Community Service Project
Our 6th grade Junior Academy service project this quarter is to help Camp Able! We will be accepting donations for this group that provides opportunities for San Diegans with disabilities. Please see the flyer that went home Monday (also attached under my Flyers page) for what you and your student can donate!
State Testing (CAASPP)
Sixth grade testing is coming up! It will be the week of May 7. Over the next two weeks, we will be going over all that we have learned this year, and additional practice is encouraged at home! This week, we will work on a math review packet.
Final Camp Payment
This Friday is a FULL day.
THIS WEEK'S UNITS OF STUDY:
Vocabulary:
    -Data About Us 2
Grammar:
    -Adverbs

    -Review for state testing

Language Arts:
    -Argument essay (due Friday)
Math ("Data About Us"):
    -Data About Us Investigation 4: Using Graphs to Group Data
    -Histograms, Box & Whisker Plots

    -Unit test this Thursday, April 26
Science: 
    -Weather Patterns, Ch. 8.3
History:
    -Ancient Greece, Ch. 
STEAM:
    -Math review for state testing
                                  Click on the Image below to connect to 
our Scholastic Book Club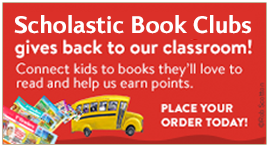 You can always email me! --- jenn.lansford@lfcsinc.org 
(Students: Remember to use the proper format and grammar when sending an email!)