The next auction will begin around February 25, 2016
------
Welcome to
La Scena Musicale
's Online Auction Fundraiser
Show your support for your refernce to classical music, jazz and the arts!
* Note: all proceeds to benefit charity, no taxes applicable.
_______________________________
Catalogue
_______________________________________
For more information or to donate an item,
contact fundraising@lascena.ca
Conducting Baton Signed by Charles Dutoit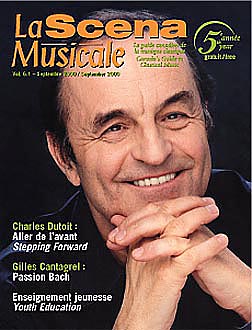 Win Charles Dutoit's Framed Signed Baton from July 2013 performances
Works: Beethoven's Piano Concerto no 1 (with Lang Lang), Ravel's Daphnis & Chloé, Dvorak's Cello concerto (with Yo-Yo Ma) and Stravinsky's Rite of Spring.

Soloists: Lang Lang (piano) and Yo-Yo Ma (cello)

Boston Symphony Orchestra

Finishing: Signed baton framed with magazine cover and performance details
Bidding to start soon

Two tickets for Opera de Montréal:
Les Feluettes (Lilies)
May 21, 2016 (category 1, value: $296)
LES FELUETTES (LILIES)
A world premiere work of uncommon dramatic intensity by a dynamic duo—Quebec playwright Michel Marc Bouchard and Australian composer Kevin March—, featuring two rising stars trained at the Atelier lyrique de l'Opéra de Montréal: baritone Etienne Dupuis and tenor Jean-Michel Richer. 
SYNOPSIS :  
In 1952, a group of prisoners led by Simon confine a bishop named Bilodeau, performing a play for him, thereby relating a series of events that took place forty years earlier, when Simon and Bilodeau were at school together in Roberval, in the Lac St-Jean region. 
Much like a trial, the aim of this confinement is to get Bilodeau to admit to a crime he committed, and for which Simon was unjustly condemned, at a time when he was in love with Vallier de Tilly, a young, ruined French aristocrat exiled with his mother to Quebec. 
This theatrical mise en abyme—a play within a play—, in which men alone perform both the male and female roles, has captured the public's imagination the world over with its theatrical qualities and emotional resonance.
NEW CO-COMMISSION Productions ODM Inc. + Pacific Opera Victoria
Auction ends: March 18, 2016
Size: 16'' x 24''
Year: 1997
Medium: Charcoal on paper
Auction ends: March 18, 2016
Medium: Acrylic on Tatami paper, glue on Hahnemühle paper
  _____________________________________________________