Kern CUE announces 

2014 Outstanding Teacher

Shannon Zimmerman!
​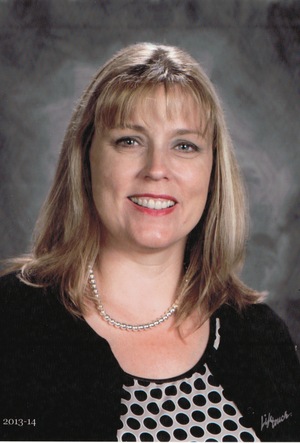 Kern CUE is honoring Shannon Zimmerman with the Kern CUE Outstanding Teacher 2014 because of her passion for students and technology in the classroom. 
Shannon Zimmerman has been a teacher at Pond Union School District in Wasco, Ca since 2002. Pond USD is unique with only one school in the district and serving 230 students in grades K-8. In it's rural setting, 90% of the student population is on free or reduced lunch and 50% are English Language Learners. There is one teacher per grade level with the exception of 2 teachers who take on combo classes at the levels needed. Being one of the roving combo teachers has given Shannon an advantage of working with multiple grade levels of students.
    Reflecting back on her educational technology history, Shannon realized during the second year of her teaching, the impact of technology in the classroom. She wanted computers in her classroom and a program called Accelerated Reader made by Renaissance Learning. She worked within her community and found Paramount Farms willing to support her vision. Within two years she was moved out of her first/second grade combination class and was made the intervention teacher for middle grades in the morning and technology education coordinator in the afternoon. Shannon continued to dream and brought her dream to life. 5 years later, Pond School District had computers, Smart Boards, and multiple educational technology programs implemented in every classroom. She worked to acquire funding through the E-Rate to rebuild the infrastructure of the school's wiring and erected a new building for a computer lab.
    By the time the computer lab came along, Shannon had written several grants to gain access to all Renaissance had to offer. Pond had become a Renaissance school. The school had established an atmosphere of reading and literacy paired with technology. All of their k-8 students took turns each week rotating through the computer lab learning grade level content through Microsoft Office products as well as select gaming sites. Students were producing Power Points and Excel Spreadsheets beginning in 2nd grade and beginning to do research in 3rd grade. During this time, Shannon also worked to get her Level III CTAP Technology Mentor Status.
    Shannon's next step? Google. Pond's growth with technology education accelerated quickly once they obtained a Google domain. Shannon and a colleague attended CUE Palm Springs in 2011 and the possibilities were overwhelming. Shannon immediately joined her local affiliate, Kern CUE, and started building a support system. The knowledge she gained from the conference and her new Kern CUE colleagues was applied schoolwide with the support of her administrator and co-workers. She spent that summer creating a district technology plan and giving professional development to the staff. Shannon was instrumental in acquiring, deploying, and implementing Chromebooks on a 1:1 ratio for grades 3-8. Students and staff are actively using Google Apps for Education as well as other educational applications to facilitate
learning. 
    Shannon has brought her expertise to the other educators in Kern County by presenting at the Kern Technology Festival for the past three years. Her presentations have been well attended and well received. Shannon continues to give support to staff and students and Google is now becoming a part of our school culture. She was excited to attend the ISTE conference this past summer in San Antonio and brought back more ideas to her district.    
    Shannon Zimmerman is passionate about technology in the classroom and has been a key leader in her district to implement changes in the use of technology. She has supported and trained educators, taught her own classroom of students, and brought a vision of positive change to her administration. Shannon has a dream to provide students with the tools and skills to inquire, create, collaborate and communicate while they are young, giving them the necessary edge they will need when competing in the workforce as adults. She is making it happen in her classroom
at Pond School in Pond Union School District. Shannon Zimmerman is Kern CUE's Outstanding Teacher for 2014.