Latest News
Subscribe to posts
Kern CUE announces 

2014 Outstanding Teacher

Shannon Zimmerman!
​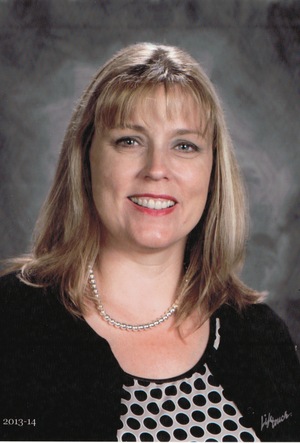 Kern CUE is honoring Shannon Zimmerman with the Kern CUE Outstanding Teacher 2014 because of her passion for students and technology in the classroom. 
Shannon Zimmerman has been a teacher at Pond Union School District in Wasco, Ca since 2002. Pond USD is unique with only one school in the district and serving 230 students in grades K-8. In it's rural setting, 90% of the student population is on free or reduced lunch and 50% are English Language Learners. There is one teacher per grade level with the exception of 2 teachers who take on combo classes at the levels needed. Being one of the roving combo teachers has given Shannon an advantage of working with multiple grade levels of students.
    Reflecting back on her educational technology history, Shannon realized during the second year of her teaching, the impact of technology in the classroom. She wanted computers in her classroom and a program called Accelerated Reader made by Renaissance Learning. She worked within her community and found Paramount Farms willing to support her vision. Within two years she was moved out of her first/second grade combination class and was made the intervention teacher for middle grades in the morning and technology education coordinator in the afternoon. Shannon continued to dream and brought her dream to life. 5 years later, Pond School District had computers, Smart Boards, and multiple educational technology programs implemented in every classroom. She worked to acquire funding through the E-Rate to rebuild the infrastructure of the school's wiring and erected a new building for a computer lab.
    By the time the computer lab came along, Shannon had written several grants to gain access to all Renaissance had to offer. Pond had become a Renaissance school. The school had established an atmosphere of reading and literacy paired with technology. All of their k-8 students took turns each week rotating through the computer lab learning grade level content through Microsoft Office products as well as select gaming sites. Students were producing Power Points and Excel Spreadsheets beginning in 2nd grade and beginning to do research in 3rd grade. During this time, Shannon also worked to get her Level III CTAP Technology Mentor Status.
    Shannon's next step? Google. Pond's growth with technology education accelerated quickly once they obtained a Google domain. Shannon and a colleague attended CUE Palm Springs in 2011 and the possibilities were overwhelming. Shannon immediately joined her local affiliate, Kern CUE, and started building a support system. The knowledge she gained from the conference and her new Kern CUE colleagues was applied schoolwide with the support of her administrator and co-workers. She spent that summer creating a district technology plan and giving professional development to the staff. Shannon was instrumental in acquiring, deploying, and implementing Chromebooks on a 1:1 ratio for grades 3-8. Students and staff are actively using Google Apps for Education as well as other educational applications to facilitate
learning. 
    Shannon has brought her expertise to the other educators in Kern County by presenting at the Kern Technology Festival for the past three years. Her presentations have been well attended and well received. Shannon continues to give support to staff and students and Google is now becoming a part of our school culture. She was excited to attend the ISTE conference this past summer in San Antonio and brought back more ideas to her district.    
    Shannon Zimmerman is passionate about technology in the classroom and has been a key leader in her district to implement changes in the use of technology. She has supported and trained educators, taught her own classroom of students, and brought a vision of positive change to her administration. Shannon has a dream to provide students with the tools and skills to inquire, create, collaborate and communicate while they are young, giving them the necessary edge they will need when competing in the workforce as adults. She is making it happen in her classroom
at Pond School in Pond Union School District. Shannon Zimmerman is Kern CUE's Outstanding Teacher for 2014.
Presenter Submissions and Exhibitor registration is now open for the Kern Technology Conference on Oct. 19, 2013.  Click on the conference tab above for more information.
Jennifer Ratchel is a Deaf Education teacher at Eissler Elementary School in the Bakersfield City School District.  She was nominated and supported by colleagues at her school.  Here is an excerpt from her nomination packet.  
Everyone is scared of something.  Jennifer Ratchel was scared of technology! Jennifer began teaching in a third grade classroom during the 1996-1997 school year.  She had a computer available, but chose to handwrite lesson plans, to keep an old-school paper grade book, and to even handwrite quizzes and assignments for her students. 
Ever so slowly, Jennifer began utilizing available technology to its fullest extent.  She attended any and all trainings made available through her district, and eventually received a CTAP Level II certification.  It was at this point that Jennifer and technology became acquaintances.  By now, Jennifer was teaching a Deaf and Hard of Hearing class and she began to see how limited the resources for these children were.  She started researching for and designing standards-based Notebook lessons to be used via her smart board.  She was a very vocal advocate who supported the purchase of smart boards for her entire elementary school, and was even willing to assist teachers as they began their own foray into her once anxiety ridden world of technology.
Jennifer was open to helping others because she was amazed at the level of individual success her students were achieving via the interactive, stimulating, and interesting lessons she could now provide.  She was determined to enhance her students' experiences using current and exciting technology any way she could get her hands on it.
At first, Jennifer asked her immediate supervisors for support, but they were unable to help.  She then went to members of special education at the district level, but they were also unable to assist. Instead of giving up, Jennifer set some amazingly high goals for herself because she was determined to do what was best for her students.
Since the majority of Jennifer's students rely on hearing aides to be successful, but don't all have the state-of-the-art equipment now available, Jennifer elected to spearhead the creation of a proposal to provide this superior technology to all Deaf and Hard of Hearing students within her district.  The proposal took weeks to research, organize, write and submit, but in the end, it was all worth it.  Over $50,000 worth of hearing aides, transmitters, boots, wall pilots, etc. was delivered! The work on this project had only begun. Jennifer was voluntarily trained in the correct fitting of the equipment, created an inventory, set-up the equipment, and provided trainings for the staff and students – all on her own time.  This technology gave new life to these children.
Jennifer could have stopped there, but she didn't.  Her new crusade was to get technology into the hands of her students at their homes.  She wrote, and received, a grant via Donorschoose.org in which she obtained hand-held video cameras for the students to document the use of sign language in their homes and community.  The cameras are brought back to school where the videos are downloaded and shared with the class.
That same year, Jennifer received four first-generation iPads with a new student, but this quantity was not enough for her entire class, so she set her very indomitable mind on getting a class set of iPads stocked with apps that would meet the individual needs of her students.  She was successful through a grant from Kern CUE, a grant from her district's Educational Foundation, and a donation from her school's Booster Club.  These iPads are utilized in Jennifer's classroom each and every day. The students are now capable of independently making videos of themselves, looking up unknown words in a sign language dictionary, writing and illustrating stories, and are constantly learning to use new apps.
At this year's Kern CUE conference, Jennifer delivered an energizing and enlightening presentation that resonated with all in attendance entitled "iPads in Special Education and Mainstream".  She is currently preparing to present again at the California Educators of the Deaf and Hard of Hearing Annual Conference in March. 
Gone are the days of handwritten lessons and quizzes. The once technology phobic Jennifer Ratchel has now embraced technology in a way that can be imitated and admired.
Don't forget to submit your registration for the Kern Technology Conference!!  Look at the great sessions available and the fabulous Keynote Speaker!  We can't wait to see you and don't forget to let your friends know.  Click on the registration link to join us for a day full of ideas, sharing, and collaboration!  Did I tell you about our incredible prizes????
Kern CUE is now accepting submissions for presenters for the 2012 Kern CUE Technology Conference!  CLICK ON THE KERN CUE TECHNOLOGY CONFERENCE TAB AT THE TOP OF THE PAGE TO GO TO THE FORM.
Mark Your Calendars for October 20, 2012
We're so excited to collaborate again with the CSUB teacher Quality Partnership and are thrilled to announce a third collaborator,  
Region XI ACSA – Association of California School Administrators ! The date has been set for Saturday, October 20, 2012 at CSUB from 8:00 am - 3:00 pm. We are making some new plans for lunch and expanding our number of sessions to be inclusive of more needs. The Call for Speakers will be coming soon, so keep an eye on this blog!