Blog
Welcomed to the HDI NEC blog! We hope that you find these posts informative and engaging.

Subscribe to posts
Company: Worcester Polytchnic Institute
Nominator: Debra Dexter
Chapter: New England Local Chapter
Marie DiRuzza is an experience IT support center and IT Service Management (ITSM) leader specializing in the delivery of IT services in a University setting. In her current role as Director of IT Service & Support at Worcester Polytechnic Institute (WPI), she provides leadership for all IT Service and Support and Content, Communications and Training. She works with area supervisors and ITS executive leadership to define support services strategy, ensure operations efficiency, and oversee continuous improvement efforts. Her talented team of eleven IT support professionals and about 45 student staff are committed to effective service delivery, customer service excellence, and productivity enablement of the campus community through effective use of technology.
    

Responsible for managing the multi-year ITSM project, she has led implementation efforst for Incident/Service Request, Change Management, Service Catalog/Portal, Knowledge Management and Asset Management using Cherwell CSM at WPI. Marie has been a leader in the IT support industry for over 12 years, serving as VP of Programs and then President of HDI New England Chapter, Chairperson of the Cherwell Northeast Users Group, and SIGMaster for the NERCOMP (an EDUCAUSE affiliate). She holds a bachelor's degree in Mathematics and the following industry certifications: Project Management (WPI, CPE), ITIL Foundations v3, HDI Help Desk Manager, and Center for Creative Leadership LDP.
Company: Boston College
Nominator: Mary Therese Durr
Chapter: New England Local Chapter
Shanna manages the Support Center team at Boston College. Students, faculty, staff and anyone who finds their way to the Support Center are serviced by her team of 11. Shanna's team handles more than 11,000 calls and 4,900 walk-in help requests a year. Shanna's team also leads the Information Technology Services (ITS) student employee formation efforts.
As stated by Boston College Center for Student Formation, "Student Formation engages students to explore the connection between their talents, dreams, and the world's deep needs." Shanna leads these efforts for the IT student employement where we employ over 200 students.
Shanna began at Boston College in January of 2007 as the manager of the Help Desk and campus computing lab. She later led the effort to outsource Hardware Services (she continues to manage that relationship). Shanna has a strong background in managing student services; she came from Harvard Law School where she managed the Student Help Desk for over 8 years.
Shanna served as the VP of Membership for the HDI New England Local Chapter from 2012 to 2016. She has a unique talent in seeing staff's strengths, rallying team morale and encouragement, and is excellent at process improvement. She blends well with other ITS departments and is always asking, "What can we do to help?" Shanna has an Administration and Management Master degree (2004) from Harvard University and a Higher Education Master degree (2014) from Boston College.
Company: Nationwide Children's Hospital
Nominator: Bill Breil
Chapter: Mid-Ohio Local Chapter
Michael Little has been working in the realm of Information Technology and Customer Service for the past fisteen years throughout various roles. This has included spending time as a technology trainer, a PC technician, a Help Desk analyst, and then moving into supervisory and mangerial roles just over six years ago. Aftger receiving his Master degree in Business Administration in 2013, Mike moved to Nationwide Children's Hospital as the IS Support Center Operation Supervisor and Interim Manager before moving fully into the Support Center Manager role in December of 2013.
Outside of his employment history, Mike has stayed active in the community with volunteer work with the Boy Scouts and assisting with summer camps. He has also been part of the Mid-Ohio Chapter of HDI where he has served as an Officer from March of 2008 in multiple roles. He is currently the Chapter President.
We spoke to Mary Therese Durr following her presentation in June entitled "The Human Side of Change". 
You begin by defining the human side of change management as "an approach to transitioning individuals, teams, and organizations to a desired future state." This definition is based on William Bridges' Transition Model and during your presentation you focused on the three stages of transition.
What are the three stages of transition and why is it important our readers to be aware of them?
I equate it to crossing a river. As managers, we're already on the other side of the bank and we might be thinking "What's the big deal? We're here." But we've had time to cross that river, your staff haven't. We need to help transition their automatic behaviors to a new way of coping with a new reality. I remember moving from a large condo to a small condo a block down the street. Something as simple as backing out of my driveway needed to change because it's a different way to work and you have to allow yourself a little time to adjust. It's the same for projects such as moving from Exchange to Google. You're aware the steps are simple but they're different so you need to allow time for them to become automatic again. We forget about planning for even the smallest amount of time, but it adds up.
How do we manage endings?
We need to help people realize it's the transition, not the change, we often resist. Wading into that river and navigating the way to the other side can be rough but good leadership can help make that trip more manageable. When someone at a high level announces change and its purpose then acknowledges there is a period of transition, we can then manage what we need to let go, what will stay the same, and what is new. Letting go is difficult, it challenges our credibility and the skill-set we've mastered over time. We may feel vulnerable until we master a new skill-set. By giving people all the information they need and acknowledging letting go of and honoring the past, we can then understand and accept grieving as natural and necessary.
Why is it important to develop a plan from where they ARE not from where you want them to BE?
We all experience navigating the river differently and at varying paces. Visualize the river between the two of you. One person might be close, so throwing them a rope would help them get the other side. If they're at the beginning, just wading into the water, then you need to help them stay afloat first, then when they're close that rope will help. Your job becomes helping them to know where they are in the neutral zone. Help them to visualize the path so that they feel they're not going in circles, that the other side is there and they won't be in the river forever.  We call this, "Leading in the Neutral Zone: The 4Ps".
Purpose: communicate directly - direct supervisors and higher
Picture: Paint the picture or take them to places doing it: encourage experimentation and create opportunities
Plan: Work with them to plan the change: Short Term - Long Term solutions and training opportunities
Part: focus on the impact - how will this affect me!: coaching and mentoring
In some cases, people may need to re-invent themselves and their purpose. If they are able to see themselves doing something differently, they may decide in this new reality they have a different purpose.
How has this approach benefited you and your team?
It helped me during a transition in staff when I was feeling depressed and couldn't understand why. Once I realized what I was losing, I realized it was all normal and I could get through it. The table below helped guide me through the three stages of transition when I experienced change. It is important to realize if endings are not managed, and people cannot navigate the neutral zone and new beginnings, the organization may be at risk of losing institutional knowledge and valuable people when someone cannot cross the river without help, guidance and support.
Ending

Neutral Zone

New Beginning

What is being lost?

-Clarify what is and what is not ending.

-Acknowledge what is ending or being lost.

-Review what from the old will carry to the new; familiarity is everything!

Purpose: Do they understand the purpose of change and has someone in authority communicated the purpose?

-Be sure to have the supervisors and higher communicate the purpose.

Have you reviewed and improved the implementation plan with the users and the support team?

-Fine tune the implementation plan.

What needs to be left behind?

-Paint the picture of the future.

-Give them all the information they need to picture the future for themselves.

-Tell what is improving, will increase productivity, and/or build new skills.

Picture: Do they have a picture of the future?

-Paint the picture, show them places that are already doing it, encourage experimentation and training opportunities.

Have you verified that the message you are sending is clear and paints the same picture for all?

-Clarify the changes.

How can you help them say good-bye to the old way?

-Use ceremony and symbolism to honor the past.

-Make available support access, training materials/manuals, trainings, and checklists.

Plan: Did you have them participate in creating the plan for the implementation and transition?

-Work with them to plan the change. Create short term and long term goals.

-Is there a cheat-sheet, frequently asked questions, initial guide they can follow?

-Is there a support team they can call if they get into trouble?

- Describe the old habits that need to 'let go' and the new habits that need to be acquired.

Have they had time to practice before they are asked to produce at the same level as before the change?

-Provide opportunity to practice.

-Focus on a few quick successes

What is the timeline for transitioning?

-Understand and accept that some grieving is natural and often necessary.

-State to users and their supervisors that initially there will be a decrease in productivity.

Part: Do they know what their part is in the plan?

-Focus on how this will impact them, what is their part to play; be sure to mentor and coach.

Have you planned for collaboration between all involved in the implementation?

-Work collaboratively with others from users, customers, support team, functional analysts, business analysts, technical analysts.

-Build in responsiveness and flexibility.
Mary Therese Durr
 is the Director of Computing Support and Information Technology Service Management at Boston College. Mary entered the technology field over twenty-five years ago as a computer programmer. She has moved from software development to computer lab management to networking to systems management and lastly to directing those who do all the real work. Her specialty is discovering people's strengths. Mary has her Master's in Education, Research, Measurement, and Evaluation at the Boston College Lynch School of Education.
Wednesday, March 18th, 2015
Boston University IT Help Center
HDI New England held a meeting on Wednesday, March 18th, at Boston University's IT Help Center. Presenters Jill Beckman and Mike Javorsky from Boston University spoke about how many believe that IT professionals working in education are closest to current technology trends, that student use of technology can tell us where our industry is going. They presented a case study on how Boston University's students are currently using their computers and devices, their preferences, challenges, and more. HDI and itSMF members got a chance to take a peek over the shoulder of the industry's most ardent users and delved into survey results, interviews, and IT metrics to learn about the latest trends in technology.

Jill Beckman
Assistant Director for Desktop Services, Information Services & Technology
Boston University
Jill Beckman is the assistant director for desktop services at Boston University's IT Help Center. Jill's staff of thirty-five supports more than seventy-five departments and schools within the university, and is also responsible for many shared services, such as the desktop asset management system, imaging, virtual desktops, authorized service repairs for most major manufacturers, and check-in support for personal devices.

Mike Javorsky
Client Support Specialist III (Service Desk, IT Help Center), Information Services & Technology
Boston University
Mike Javorsky is a client support specialist in Boston University's IT Help Center. In addition to providing client-focused desktop support for the College of Fine Arts, Mike also works closely with its faculty and staff on academic technology needs ranging from specialized computer labs and print equipment to the implementation of technology for artistic performances and exhibitions. Beyond his support work, Mike has facilitated classroom training for new student employees of the University's IT Help Center.
The HDI NEC Desktop Support Technician of the Year Recipient
talks about competing at the Global Conference.
So who does the ability to treat IT as an Art form, a degree in the visual arts, copious creativity and exceptional desktop support technology skills amount to? Why the winner of the Northeast HDI Desktop Support Technician of the Year that's who! The HDI New England Chapter is ecstatic that Chris Chagnon, from the Information Technology Services Shop and Helpdesk at Worcester Polytechnic Institute in Massachusetts, will compete against four other regional chapter winners for the
HDI Desktop Support Technician of the Year Award
at the March HDI conference in Las Vegas. Chris holds a unique position where he splits his time in the ITS Computer Shop and works on special projects with the ITS Helpdesk.
What's he looking forward to at conference?
"It will be very exciting to see what everyone else in the industry is up to. Learning what others are doing, and having the ability to take back ideas and share projects and knowledge is all-too-exciting to me. I know that, for me, the conference will help ignite the sparks that give way to many new projects, and solutions to problems we have been seeing. It will be great to share with others the work that we are doing at WPI, and learn how others within the industry are operating."
When asked what is the most important skill needed for success as a Desktop Support Specialist, Chris answers, "bigger-picture thinking." He goes on to say, "When working with a User I try to think beyond the immediate problem, and always work with the user to make sure that they are happy, throughout the process. A broken printer can mean a very bad day for a user. Fixing the printer is important, but working with the user to make sure that they have somewhere to print, and have the access they need to print, while you fix the broken printer, is even more important. Sometimes taking a step back and looking at an incident from a larger perspective can go a long way."
Chris is all-too-familiar with the latest and greatest technologies. So when asked, "If a robot could replace you, what top 5 attributes would it need to possess?" Chris chuckled and said, "I work at WPI, so this may not be entirely out of the realm of possibility! A robot would need to possess: Copious Creativity, a 'terminally delightful' personality, an overwhelming desire to help, an affinity for learning new things, and finally, an ability to treat IT as an Art form."
Curious as to what training Chris believes helped him with the most crucial aspects of IT Support? Chris says, "Technology can be learned. But communication and customer service skills must be developed. It is important to always be up-to-date on emerging technologies, with one foot toward the future. But, the other foot needs to be firmly planted in the present. Providing great service, in line with company standards and policies, is a nuanced activity. My Bachelor's degree is in Visual communications, which I like to think has helped me immensely in IT. I am not advocating that everyone, in the Technology sector, get a degree in the visual arts, but I do think that the core coursework in interpersonal and effective communications has helped me grow. Most of the time I have found that it isn't so much what you say, but how you say it that affects the reception of a message."
What does Chris feel is the best part about his job in the Helpdesk industry? "No two days are the same. Every day there is something new. There will always be new technologies, software, or things to learn, and that means there will always be new problems to solve. IT doesn't have the ability to stagnate or grow stale. Being ready for whatever the day throws at you is in the job description, and I wouldn't have it any other way."
Let's wish Chris the best as he heads off to Vegas in March. And let's hope what happens in Vegas doesn't stay there; bring the fun back home Chris!
Hopefully you had a chance to listen to Amy DeMartine speak on January 30 about the Internet of Things and how it will impact future business. She spoke about how energy, manufacturing, health care and financial services industries are already leveraging the power of "making dumb things smart". What's your take on her talk? How will your organization prepare for IoT? Post your comments here!
About the presenter: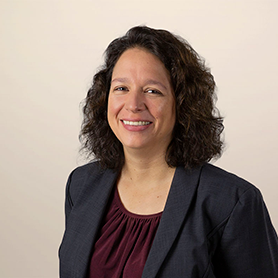 Amy DeMartine
is a member of Forrester's service management and automation team, which serves Infrastructure & Operations Professionals and service support and delivery professionals in improving, optimizing, and automating the services they offer to business consumers and users.
Her research focus is on IT service management and IT asset management, including topics such as knowledge management, collaboration opportunities, and customer experience management. Amy helps IT organizations improve their customer experience with their lines of business by analyzing paradigm shifts in the services and support IT provides.