Clothing
Amish dress in a very simple style due to their beliefs and interpretation of the Ordung. Clothing is made at home by the women, clothing is made from simple or plain fabric primarily with dark colors. men in general wear straight-cut suits and coats without collars, lapels or pockets. Trousers never have creases or cuffs and are worn with suspenders. Belts are forbidden, as are sweaters, neckties and gloves. Men's shirts fasten with traditional buttons in most orders, while suit coats and vests fasten with hooks and eyes. Young men are clean shaven prior to marriage, while married men are required to let their beards grow. Mustaches are forbidden. Amish women typically wear solid-color dresses with long sleeves and a full skirt, covered with a cape and an apron. They never cut their hair, and wear it in a braid or bun on the back of the head concealed with a small white cap or black bonnet. Clothing is fastened with straight pins or snaps, stockings are black cotton and shoes are also black. Some Amish communities don't wear shoes. Amish women are not permitted to wear patterned clothing or jewelry. The Ordnung of the specific Amish order may dictate matters of dress as explicit as the length of a skirt or the width of a seam. The Amish live a simple and plain life, this way of life is definitely expressed through their clothes.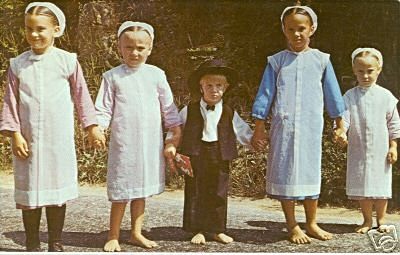 Vanity is a amjor thing the Amish have to avoid. They must not have designs on thier clothes or be flashy.
Quilts
Amish women  make quilts by hand and sell them to make money. Amish women play a very important part in the success of the Amish community and provide much needed income through a variety of different business ventures. In an Amish community, the women are solely responsible for tending to the home, working in the yard, keeping the garden, cooking, sewing and washing the clothes, and raising the children. Every person in the Amish family must contribute to income and t
he Amish women have found success selling handmade Amish Quilts. The Amish originally rejected the idea of quilting for art and didn't take on the practice until the 1800s. Art in Amish community is shunned and not accepted,but the art of Amish quilting was able to develop within the Amish community because the quilt itself served a purpose, so adding decorative elements to it was considered acceptable.
A Quillow is a Quilt, a Pillow, and a Blanket all in one. Each is made by hand and opens into a beautiful covering approximately 40"x 60".  A quillow is a quilt with an attached pocket into which the whole blanket can be folded, thus making a pillow. Once folded into the pocket, it can be used as a cushion during the day and unfolded into a blanket at night.