Home With The Lord
Subscribe to posts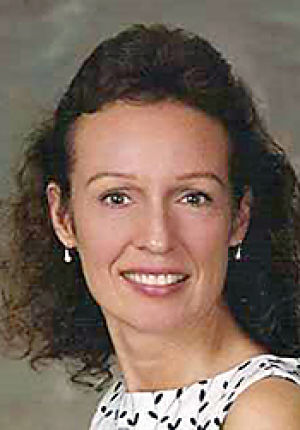 Laura German Coniglio, wife, daughter, sister, nurse and Siberian Husky mother passed from this life on Wednesday, January 28, 2015. Born in Manila, Philippines on October 28, 1954 to missionary parents she spent her youth exploring the islands of Luzon and Palawan and developing a lifelong love of the country and the Philippine people. Laura was a nurse at Bryan Hospital for 29 years. Being a nurse provided her with an avenue to use the God given gifts she had; empathy, compassion and caring.
At 6:14 PM August 14, 1983 Laura met her love her soul mate, her husband, Ron Coniglio. They married on December 22, 1984. Through 30 years of marriage they laughed together, travelled together, sailed together, worked, played and cried together. She loved reading, exercising, being read to, being with her friends and family. Laura especially loved raising her three Siberian huskies, Ayla, Esa and Maya. Laura and Ron could be seen in all types of weather joyfully walking their four-legged children. The gift of love that she gave to her husband over those 30 years and up to the moment of her passing is beyond measure.
An active member of Westminster Presbyterian Church Laura knew Jesus Christ as her Lord, Savior and her salvation. As a newly installed deacon at Westminster Laura enjoyed her participation in leadership and small group settings.
Laura is survived by Ron and Maya, as well as her mother, Leola German of Phoenix, Arizona, Karen German Strouse of Phoenix, Cal German of Omaha and Doris German of Saguache, Colorado.
A celebration of love is planned for Laura this coming April when the grass is green, the flowers are up, the leaves are out, and the world is reborn. A notice will appear in this venue. Please donate any memorial gifts to the Pieloch Pet Adoption Center.
We received word that Len Brooks, a former staff member, has passed away. He and his wife, Esther, served at Faith
from 1960-1971 and Len was instrumental in obtaining the present property where Faith Academy stands. This photo is Len with his daughter, Kathy (Brooks) VanDuzer. The following is from his niece's (Joyce Brooks Hardisty) Facebook post:
Heard this morning that one of our mighty men of God Leonard C. Brooks (my Uncle) went home to be with His Lord…. that would have been on Friday, in New Jersey.

Uncle Len followed faithfully in the godly footsteps of his missionary parents, Cyril and Anna Brooks. He leaves behind his lovely wife, Esther Brooks, and almost all of his kids, his grandkids, his great grandkids, as well as his brother, Ken Brooks, (my Dad) and his sister, Rose Brooks, not to mention all the rest of us. We do not grieve as others do because we KNOW that we will see Uncle Len again in glory.  
Uncle Len is now dancing with his "Cinderella", his oldest child, Nancy Brooks Mehorter who went home to be with the Lord in April of 1991. 
On Tuesday, January 15th visitation will be from 3-5 pm with the funeral service at 7:30 pm. Both services will be at Bethany Bible Chapel, 2341 Church Rd. Toms River. A graveside service will be conducted on Wednesday, January 16th at the Fairview Cemetery, 1100 East Broad Street in Westfield. In lieu of flowers, contributions may be made to Christian Missions in Many Lands. 
Bonnie Carvey and her husband, Vern, both served on the Board of Trustees at Faith Academy and were parents to Tim '70; Chuck '72 and John '74.
Email received on September 17th:
"My Mother passed on to heaven at 3 pm on Tuesday, September 11, 2012. I wanted you to know so you can pray with us for grace during this time and celebrate her life. My brother, Chuck, wrote the following notice and it expresses my thoughts and feelings as well. Blessings, John Carvey"
Dear Friends,
This afternoon (9/11/2012) at about 3pm, my Mom, Bonnie Carvey, was blessed by the receipt of her heart's desire. She has moved from Denver, Colorado, to Heaven itself. Many years ago, she passed from death to live in Jesus Christ. During the years since then, she has come to know God better and been freed from the power of this world's systems. Now she is free from the very presence of sin and is in the presence of God Almighty and her older brother Jesus, the Christ.
Although I don't have the exact address, her new home is a mansion prepared just for her. She is catching up with Vern, her husband of 40 years, her brother Clyde and sister Claudia and many others from both recent and ancient times.
She lived her last days as all the rest, ministering to those around her. She celebrated with her AWANA co-leaders on Saturday, testified to her physician on Sunday, and spent time with her family. She has lived her life as a godly woman; allowing others to come to an understanding of what that looks like in today's world. I will miss her, as will many others whose lives she has touched. The blessing she has bestowed will remain eternally. I know that I will see her again and that there will be no end to our time together.
Please join with me as we cry a bit – for we miss her. Also join me in celebration of her new life, in her new home, in a new land where there is no sadness or pain. Thanks!
We have scheduled a memorial service for my Mom, Bonnie Carvey. It will be held at the Cherry Creek Presbyterian Church (10150 E.Belleview Ave, Englewood, CO 80111) on Wednesday September 19, 2012, at 10:00am. A reception will follow with light refreshments. There will be a viewing on Tuesday, September 18th at the Dewitt and Tabler Funeral Home (12114 Grant Circle, Thornton, CO 80241) from 5:00pm to 8:00pm.
Many of you have already called or emailed us and we really appreciate all your tenderness and support. By Saturday morning, my brothers and I will have a web site available for you with some remembrances posted. We invite you to share with us and others who knew and loved Bonnie by posting a note at:  www.bonnie.mornstartech.com
Sincerely,
Chuck
Tim, Chuck, and John Carvey for Bonnie Carvey
The Lord Jesus Christ called John Lingenfelder, former Faith Academy band director (1983-1990) to join him in Glory at 5:50 p.m. on Sunday, May 22, 2011. John lived a full and blessed life to his final breath, whispering "Victory…victory in Jesus" and then mouthing the words as his family sang it with him.
John and Kay served at Faith Academy from 1983 until 1990, when the Lord brought them back to the Midwest and called John into pastoral ministry. John was most recently ministering in New Life Church in Clarkfield, Minnesota upon his home-going. 
John is survived by his wife Kay; his son Christian and wife Amy (Volkmann) Lingenfelder and their children, his son-in-law Joshua and wife Bethany (Van Goor) Aberle and their children.

(John cooking with one his grand-daughters, C.J.'s daughter)
He was preceded in death by and his daughter Sarah Kay (Lingenfelder) Aberle (F.A. Class of '97).
Dr. William (Willie) Pearson, 63, went to be with his Lord and Savior Jesus Christ, February 22, 2011, after a courageous year-long battle with cancer.  In the 1980s, he and his wife Mallory, served at Faith Academy with Wycliffe Bible Translators.  He was a teacher and administrator at Faith Academy.

Thoughtful and chivalrous, Will was truly a Virginia Gentleman.  His sweet tenor voice and his quick wit will be sorely missed by friends and family.  Deeply mourning his loss are his beloved wife, Mallory, son Will Pearson Jr (F.A. Class of '88), daughter-in-law Sherry M. Pearson, daughter Charlotte T. King (F.A. Class of '89) and son-in-law Jonathan D. King (F.A. Class of '91) and four grandchildren.

"Therefore, the redeemed of the LORD shall return, and come with singing unto Zion; and everlasting joy shall be upon their head:  they shall obtain gladness and joy; and sorrow and mourning shall flee away." - Isaiah 51:11

Many in the Faith Community have been praying for Daniel and Rebecca (Holmes) Stringer (both '99 FA grads)  and their parents as they have been caring for 18 month-old Vincent Stringer in his battle with liver cancer.  Rebecca wrote in their caringbridge journal that Vincent "passed from this world to the next, Saturday night (November 20), around 8:25p.m."  

http://www.caringbridge.org/visit/vincentstringer/journal

~ Please remember the Stringers and the Holmes families in your prayers at this time.
Please be in prayer for the Ashton family. Stephen Ashton (F.A. Alumni, Class of '96) passed away suddenly in November. His death resulted from a fall he took during a basketball game. Stephen was a student at Faith from Kindergarten through 8th grade. His parents are Alan and Edna Aston, OMF missionaries from UK. His sister Sandra (Class of '94) attended Faith through her Sophomore year.  Steve's wife Jenny is expecting their 3rd child.

************************************************************************************************************************************

I'm Sandra Pell nee Ashton ('94).  We have just had [Steve's] funeral and it was an amazing tribute to him. The tributes spanned his life from a baby born in the Philippines through his success as a basketball player and ending with the true love he had for his wife and kids.

Andy Hall's ('90) wife, Michelle went to be with the Lord, after many years of suffering w/ Lou Gehrig's Disease. Please remember the Halls Family in your prayers...also Jon Brichoux's ('90) wife, Gina is sis to Michelle.
 "My dear wonderful sister Yvonne passed away this evening (Dec. 7, 2009) at about 5:45PM. She passed peacefully, surrounded by all of her family, mom, siblings and spouses. I read the passage "I am the resurrection and the life. Anyone who believes in me will live, even after dying. Everyone who lives in me and believes in me will never ever die." Then we prayed and thanked God for the gift that she has been to all of us and rejoiced that she is now completely healed and soaring in the presence of God, reunited with my dad and other loved ones who have gone ahead." (From Steve Cadd '72)
From Yvonne's mom, Helen Cadd: "Yvonne died as she had lived, with her loving family surrounding her, crying and laughing, singing, and praying together. Cancer took her from us on December 7, 2009, after only 53 years here, but no one could take our memories of her generosity, her kind heart and sweet spirit,her sparkle and wit, her beautiful smile and brilliant red hair. During her career as a nurse, Yvonne and Walt went to the Philippines where she worked for two years providing nursing care to low-income families and jail inmates. Back in the U.S. Yvonne worked in both gynecology and general practice clinics. Yvonne's positive outlook on life would turn any situation into an adventure. Her love of travel took her on many trips around the world. Her life was a clear reflection of her love for God and it was her highest goal that God would be glorified in and through her. For all who knew her, this goal was resoundingly achieved. Yvonne and Walt have 3 daughters (two who graduated from Faith Academy), one grandson and one grand-daughter who was born after Yvonne went to be with Jesus."
 "I am writing to tell you some sad news about my sister Mary Heaney, who taught kindergarten at Faith in 1981 to 1982. Mary died on July 2 of a brain aneurysm. She was 53. Mary loved her time at Faith Academy, even though it was for only a year. When she retuned to the States, she continued to teach, and for the last twenty years she was a teacher at West Hills Christian School in Portland, Oregon" (email from Liz Heaney who taught at Faith from 1980 to 1982)