From the News Editor
My Evolution of Music
Stars Hollow, Connecticut. 
No, its not a town that I've lived in, visited, or even located on a map. In fact, the town doesn't even exist. But regardless, Stars Hollow will always have a special place in my heart. Why? 
Full Article
---
Facebook Buys WhatsApp 
by 
Alyssa Addesso,
 2016 
(posted 3-2-14) 
On February 19, Facebook bought WhatsApp, a 99 cent 
messaging
application for smartphones, for 19 billion dollars. Although this money will set Facebook back at least two years in profit, Zuckerberg, Facebook co-owner, said it was a great investment and is worth the money, according to Facebook.com. 
Full Article
---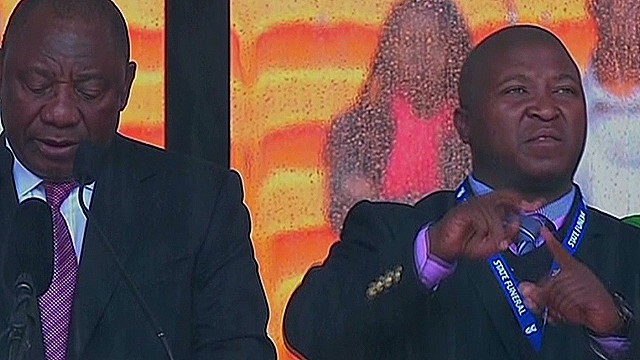 The Fake Interpreter at Nelson Mandela's Memorial Service
by Theresa Cashore, 2014 (posted 3-1-14)
The memorial service of Nelson Mandela, a South African prisoner turned president, was held on December 10, 2013. FIFA President Sepp Blatter said, "The memories of his remarkable fight against oppression, his incredible charisma, and his positive values will live on in us and with us."
Full Article
---
by Sanjana Rahman, 2014 (posted 3-1-14)
In mid-September of last year, two lanes were unexpectedly closed on the New Jersey side of the George Washington Bridge by the Port Authority of New York and New Jersey. Full Article
---
Pope Francis: Time's Person of the Year
by Sharon Bian, 2015 (posted 3-1-14)
Pope Francis, Jorge Mario Bergoglio, archbishop of Buenos Aires, "The People's Pope," and now 2013 Time's Person of the Year. The magazine announced last month that the "septuagenarian superstar" won the vote, beating out many finalists, such as Edward Snowden, Syrian President Bashar al-Assad, President Obama, and Miley Cyrus.
Full Article
---
Bullseye: Target Hijacked by Hackers
by Ansa Nisar, 2014 (posted 3-1-14)
Target may have opened its doors at 8 PM on Thanksgiving last year, in hopes of making customers happy to have more time to shop, but little did they know, customers would be mad instead.
Full Article
---
Cheshire's Lights of Hope Seeks Scholarship Applicants 
High school seniors with strong records of serving their community are invited to apply for the 2014 Cheshire's Lights of Hope Scholarship.
Full Article
---



Meryl Campbell performs at halftime of the girls' basketball game!

---

Texas Kid Catches "Affluenza"

by Alyssa Addesso, 2016 (Posted 1/30/2014)




CHS Senior Recruited by Sacred Heart University

by Ali Lamberti, 2014 (posted 1-13-14)


Most high school seniors applying to college say they have experienced the agony of hoping to be chosen by the college of their choice. However, for Selina Sampieri, a Cheshire High School senior, she had the experience of choosing between two colleges that wanted her.

 Full Article






Typhoon Strikes the Philippines

by Alyssa Addesso, 2016 (posted 12-17-13)

On November 8, a terrible typhoon hit the Philippines islands in the Pacific Ocean. . Full Article

---

Shooting at LAX

by Sanjana Rahman, 2014 (posted 11-10-13)

On November 1, 2013, a shooting incident occurred in Los Angeles International Airport by a 23 year old male identified as Paul Anthony Ciancia. 

Full Article

---

Man Found After 19 Days in Wilderness

by Alyssa Addesso, 2016 (posted 11-10-13)

Gene Peneflor, a 72 year old man, went hunting with his friend on September 24. 

 Full Article

---

Young Dems Annual Rally Gets Rowdy

On Friday, November 1st, the CHS Young Democrats hosted their annual rally at the Funky Monkey from 6 to 8 pm. 

Democratic candidates Kristen Selleck, Dan Nowak, Matt Bowman, Liz Linehan, and Patty Flynn-Harris, all running for Town Council, came to the event to openly speak to the group, accept student questions, and pump up for this Tuesday's upcoming elections.

Full Article

---

A Spotlight on Safe School Climate Committee

by Ansa Nisar, 2014 (posted on 10-10-13)

"The Safe School Climate Committee believes that Cheshire High School must be a nurturing environment, where students feel comfortable, accepted and respected. 

Full Article

---

The New "C" Rule

By Garrison Harte (

posted 9/3/13

)

The notorious "C" rule may be changing: the historically infamous rule actually might be loosening up. Currently, the rule prevents student athletes from participating in a sport if he or she has a grade below a C- in any class. 

Full Article

---

Supervisor of Special Education Retires

by Collin Salatto, 2016

(posted 6-24-13)

When this year comes to a close, we will say farewell to Mr. Stephen Proffitt, who has spent most of his time devoted to the Cheshire school system. Proffitt will retire after 33 years of service.

Full Article


---

Obama at University of Hartford

by Zachary Feldman, 2016

(posted 4-20-13)

In recent news, Connecticut has become a role model in terms of gun control. On April 4, Connecticut Governor Dannel Malloy signed a bill outlawing new high capacity magazines for guns. On April 8, President Obama made his second trip to the Constitution State since the Sandy Hook shooting.

Full Article

---

Obama Apologizes for Obamacare

by Sanjana Rahman, 2014 (posted 12-17-13)

President Barack Obama apologized on Thursday, November 7, 2013 because of Obamacare, also known as the Patient Protection and Affordable Care Act of 2010. 

The Act requires all Americans to have health insurance in 2014 or be taxed 1% of income unless certain conditions apply, according to CNN. Private insurance companies are obliged to provide their customers with certain protection as well. 

Full Article

---

Cheshire Pool Referendum Passes

By Sharon Bian, 2015 (posted 12-11-13)

The Cheshire Community Pool Evaluation Committee proposed a solution to our always-collapsing bubble: a $3.2 million permanent, energy-efficient steel membrane structure, able to withstand "winds of up to 130 mph and 50 inches of snow," according to the Record Journal. Full Article

---

Government Shutdown & Restart

by Sharon Bian, 2015 (posted 11-10-13)

On October 17 at 12:30 AM, President Obama ended the government shutdown by signing the Continuing Appropriations Act, 2014, according to the Congressional Budget Office. However, a problem still arises: the debt limit issue has merely been delayed until February 7. Full Article

---

Questions We've All Been Asking Answered at Candidates' Forum

On Tuesday, October 21st, a Candidates' Forum for the Town Council was held in the Cheshire Chamber of Commerce within the Town Hall. Hosted by the Cheshire Wallingford League of Women Voters, the forum allowed the sixteen candidates (two of which were unable to attend) running for councilmen to address the public's questions about their views on significant issues in our community.

Full Article

---

Community Service Day By Shuang Guan, 2015 (posted 10-23-13)

The Safe School Climate Committee student sub-committee is leading a Community Service Day on November 16, where CHS students will rake leaves for senior citizens. The volunteer project aligns with the club's mission to foster a positive school community.

Full Article

---

Navy Yard Shooting: The Motives Behind the Attack

By Alyssa Addesso, 2016 (posted 10-11-13)

On Monday, September 16th, 2013, a man named Aaron Alexis snuck into the Washington D.C. Navy Yard, wounded four, and killed 12 people before being killed by the police, according to CNN.

At around eight o'clock in the morning, Alexis drove his car through security and headed into the building with a backpack. In a bathroom nearby, he put together his gun, left his backpack in the stall, and started to stalk through the building.

Full Article

---

Chinese Journalist Freed After Eight Years in Prison

by Sharon Bian, 2015 (posted on 10-10-13)




On August 23, 2013, a Chinese Journalist, Shi Tao, was freed after eight years in prison.

The journalist posted reports about Chinese propaganda that restricted media coverage of the fifteenth anniversary of the Tiananmen Square massacre–in other words, he "[leaked] state secrets," the Independent Chinese PEN Center explains.  

Full Article

---

The Giant Rainbow Balloon

B

y Shuang Guan, 2015 (posted 9-28-13)It was just another morning Chemistry class on September 27, 2013, until a giant rainbow balloon landed on the field. Over the course of second session, students gathered on the field to help land and pack away Erwin and Ellen Dressel's hot air balloon. Full Article


---

The New iPhone 5S and 5C: What's the Difference?

by Judy Xu, 2014 

(posted 9-23-13)

The iOS7 hype doesn't stop here. There are now two newer versions of the iPhone 5 and, like the new updates, they're a completely different ballgame. The iPhone 5S and 5C are both iPhones, yet are still extremely different.

First off, both phones are upgrades from the initial iPhone 5 in their own rights. According to Apple, both run two times more efficiently than the original iPhone 5- around forty times more efficiently than the original iPhone. 

Full Article


---

CHS Best Buddies Chapter Goes International

The Cheshire High School Best Buddies Chapter was recently selected as Most Outstanding High School Chapter of the Year in the USA by Best Buddies International. A group of club members attended the 24th Annual Best Buddies Leadership Conference in Indiana this July where they received the prestigious award on stage in front of over 1,800 people from all over the state and even other countries.

Full Article


---

CHS German Students Recognized

Full Article




---

MLK Monument Controversial Quote Full Article

---

The Nation's Report Card

---

Robbery in Local Dunkin' Donuts and Dairy Queen
 Full Article




---

Students Experience
Español en España


---

Pep Rally Pumps Up Students Full Article

---

Students Attend Darfur Ceremony
Full Article

---

---

---

Senior Experience Project
Preparation for college and beyond Full Article