Reproduced below is the section relating to Transport. For details on the rest of the report please go
HERE
.
---
Wolverhampton's industrial development depended upon ease of access to and from the town, for people, raw materials and finished products. In the 1940s there were ten major roads radiating from the town centre, two railway stations and goods depot, a network of canals leading to the main ports, and a Municipal Airport.
Shortly before the outbreak of war in 1939, the Ministry of Transport proposed a scheme for the building of a bypass to connect
BIRMINGHAM NEW ROAD
with the
A41
, which could be extended to join
STAFFORD ROAD
via
WOBASTON ROAD
. This would have diverted a considerable amount of through traffic, but could have done little to relieve the congestion in the town centre.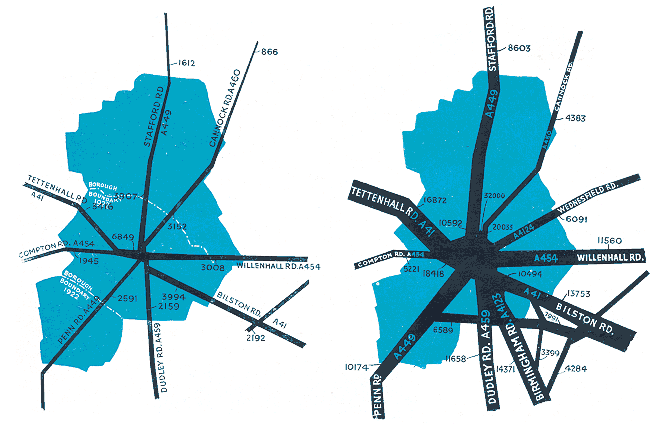 The increase in road traffic between 1922 and 1938. The figures show the average daily tonnage which is proportional to the thickness of the black lines.
The Reconstruction Committee felt that the ideal solution would be the building of a central ring road running from
PENN ROAD
in the south, along
SCHOOL STREET
and
WATERLOO ROAD
as far as
BATH ROAD
, then across to
STAFFORD STREET
and up
FRYER STREET
to
VICTORIA SQUARE
for the bus station. The road would then go along
PIPERS ROW
, and across to
CLEVELAND STREET
, from where it joined the
PENN ROAD
and
SCHOOL STREET
junction.
The road would provide good access to all the major roads and the town centre. It would have an overall width of 90 feet and consist of dual carriageways 22 feet wide, each with an 8 feet wide lay-by, allowing standing traffic to pull-up outside the main carriageway. There was also a central island that would be fenced so that pedestrians could only cross the road at controlled crossings. Roundabouts were to be constructed at each junction, and frequent breaks in the central island would allow traffic to turn from one carriageway to the other.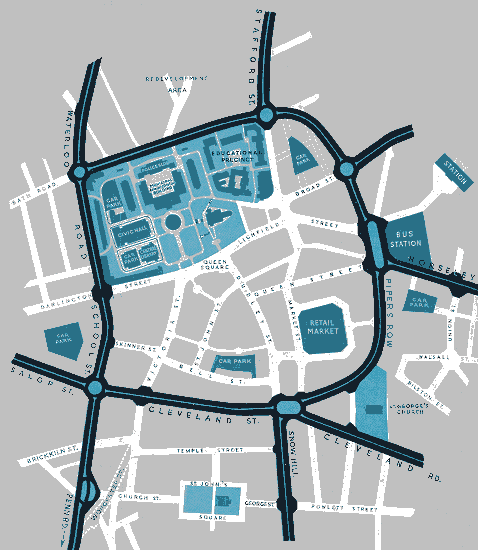 The proposed central ring road.
SCHOOL STREET
,
WATERLOO ROAD
,
FRYER STREET
,
PIPERS ROW
, and
CLEVELAND STREET
were all to be widened to accommodate the new road, and a new section would be built between
WADHAM'S HILL
and
STAFFORD STREET
, and between
STAFFORD STREET
and
BROAD STREET
.
The
Central Library
would be demolished to make way for the section of the road between
PIPERS ROW
and
CLEVELAND STREET
.
The main roads in and out of town were to be widened to 80 feet, and converted into dual carriageways.
The northern end of
PENN ROAD
would be re-aligned, and
WORCESTER STREET
would be diverted. A new road would be built along
DUNSTALL HILL
from
Five Ways
to
GORSEBROOK ROAD
.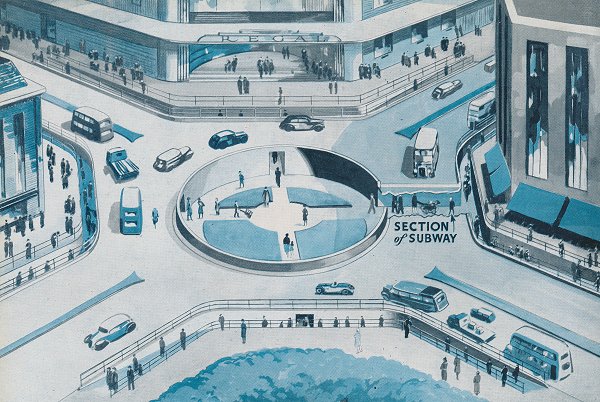 One of the proposed roundabouts with a pedestrian subway.