One of our prime goals is to have our students be a Blessing Hand to others. This page is devoted to their creations including everything from movies, paintings, and photos to their accounts of volunteer service.
The Experience of a Volunteer
My life during the first semester of my sophomore year in Guangxi Teachers College was quite colorful. I've gained a lot of experiences in my personal life and achieved great success in my courses through my hard work.

Under the leadership of the Departmental Student Association, we went to the Fensi Elementary School in a small town called ShiKa to practice the activity of "Serving the countryside". The town was located in a mountainous rural area. We packed all our necessities with great excitement and arrived at the destination finally by bus.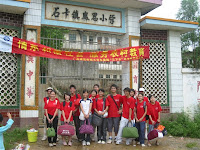 We came to realize how simple the classrooms are and how eager the kids want to learn. All this made us more determined to bring them to hope for tomorrow. We also received a warm welcome from the school's teachers. We not only taught kids knowledge from the textbooks but also played with them. We sang and danced for them on our first day there, and then played games with them and taught them new songs. We helped them during their night time studies. We taught them math, Chinese and the English language word for word. Unlike some spoiled kids in cities, these kids paid great attention to what we taught. Although their life in the rural area was quite harsh, the kid's desire to learn was very strong. They reminded me of my childhood and brought back the feelings I had when I was in elementary school. We were so close that I felt I was a part of them.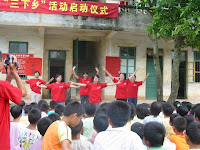 I had a great time and learned a lot during our stay. I was reluctant to leave. Although the life there was a little harsh, I enjoyed it and gained a lot of experiences. When the time finally came, and we had to say goodbye, we sang together with tears in our eyes. They asked, "When will you be back?" We replied "We will be back. Please study hard and get good scores!". We hugged and waved goodbye finally. It was full of good memories and joyful laughter inside the bus on the way home.