Announcements
Subscribe to GIS@ACC and we'll email you any job and industry announcements posted on this website.


Subscribe to posts
The City of Leander is seeking candidates for a GIS Analyst position. Under the direction of the GIS Manager, the GIS Analyst performs mapping and data analysis tasks related to GIS/CAD/aerial data to include producing graphic and tabular data to support planning activities, maintaining the City street addressing system, creating and maintaining GIS databases. The work at this level involves the creation of increasingly complex programs for the development of mapping products and a working understanding of cadastral and land management principals. Comprehend and analyze database systems including department equipment and software.
HomeAway is seeking candidates for a 
a hybrid Cartographer, QA, Analyst, and Product Manager to take ownership of our geospatial data that powers our core value proposition for helping our travelers find the perfect vacation rental. The ideal candidate is analytical, detailed and results-oriented with excellent problem-solving skills and a strong work ethic.  See the job posting for more information and to apply for this position.
Primary Responsibilities 
Mapping the world's neighborhoods, touristic regions, and top vacation rental destinations as the lead cartographer
Collaborate with the Geography Platform Product Manager and Development team to create a world class search experience for vacation rental Travelers
Triage owner complaints and manage resolution of urgent data defects while communicating changes to global business stakeholders
Lead requirements gathering (and documentation) from internal stakeholders for geography data investments
Assist competitive analysis activities to identify gaps and opportunities that will further inform the geography data roadmap
Track and report on key metrics
Candidate Profile 
Computer Science degree or comparable technical background
Basic SQL skills and report generation
Strong Google searching/internet research skills
Excellent written communication skills
GIS experience is nice to have
An Austin employer is seeking candidates for a Entry-Level Historical Geography Technician. See the
job posting on Indeed.com
for more information and to apply for this position.
Responsibilities:
Acts as the primary point of contact for all incoming historical directory projects

Identify streets and address ranges within the area of interest (AOI) using GIS software and county assessor's websites

Research city directories, street address directories, and criss-cross directories to identify historical land use in and around the AOI

Coordinate research work with remote research staff at archival facilities across the country

Data enter historical records into in-house data collection system

Upload third party data entry into in-house system and perform QA/QC of the data

Perform research of available historical materials housed at the Texas State Library

Extract data from historical research materials using optical character recognition (OCR) software

Produce reports detailing research findings for submittal to clients
Preferred Qualifications:
Experience working with OCR software

Experience using GIS software
Three different GIS Analyst positions have opened with LCRA, Travis County, and TCEQ. See each position below along with a link to the posting:
ESRI is seeking candidates for Business Development Positions with ESRI San Antonio. They are 
actively looking to hire junior level professionals with a few years of experience. According to ESRI Education Manager Dr. Joseph Kerski, they have 
11 positions open on their Natural Resources team alone! 
These team members will be responsible for new account development, presenting solutions, expanding existing accounts, and providing technical sales support within the Natural Resources industry, including Oil & Gas, Agriculture, Forestry, Mining, etc. across the United States.
Ideal candidates will have these skills and competencies:
Self-motivated, takes initiative and pride in their work

Knows how to build relationships, is a good listener and accountable

Able to accurately understand a customer's GIS needs and sees the big picture

Excellent written and verbal communication and problem-solving skills

Genuinely interested in technology and stays up to date on latest trends
ONE Gas
 - 
Texas Gas Service
 division in Austin is seeking candidates for 
a contractor GIS Technician position in Austin.  Position will perform digitizing of gas system facilities utilizing ArcGIS/ArcFM and perform data entry in Maximo.
Experience with ArcGIS Desktop software

Ability to interpret engineering drawings and project descriptions

Ability to work in a fast paced environment

Ability to pass a drug test
These positions pay $17/hr and are contract positions with no benefits. A minimum of 35 hours per week is required with 40 hours being preferable. Regular work attendance is a necessity. Please forward a cover letter and resume to Enterprise GIS Manager Shawn Devereaux at 
shawn.devereaux@onegas.com.
Debra Gomez, a GIS Specialist with the Governor's Texas Economic Development Corporation and an ACC GIS graduate, forwarded me a link to the article 
How The Gorgeous Language Of Maps Helps Us Understand The World
 by Kate Abbey-Lambertz with the Huffington Post. The article highlights a series of beautifully purposed maps featured in the book
Cartographic Grounds: Projecting the Landscape Imaginary
. The book features some really amazing works of art, including a perspective map of Tuscany by Leonardo da Vinci shown below.
Debra's not just a connoisseur of maps - she makes them as well. The Texas Economic Development Corporation recently issued a press release promoting
http://www.texassitesearch.com/,
an interactive map to help businesses identify optimal business locations based on available commercial property, location differences, demographic variations and business industry characteristics. Congratulations on launching the new website!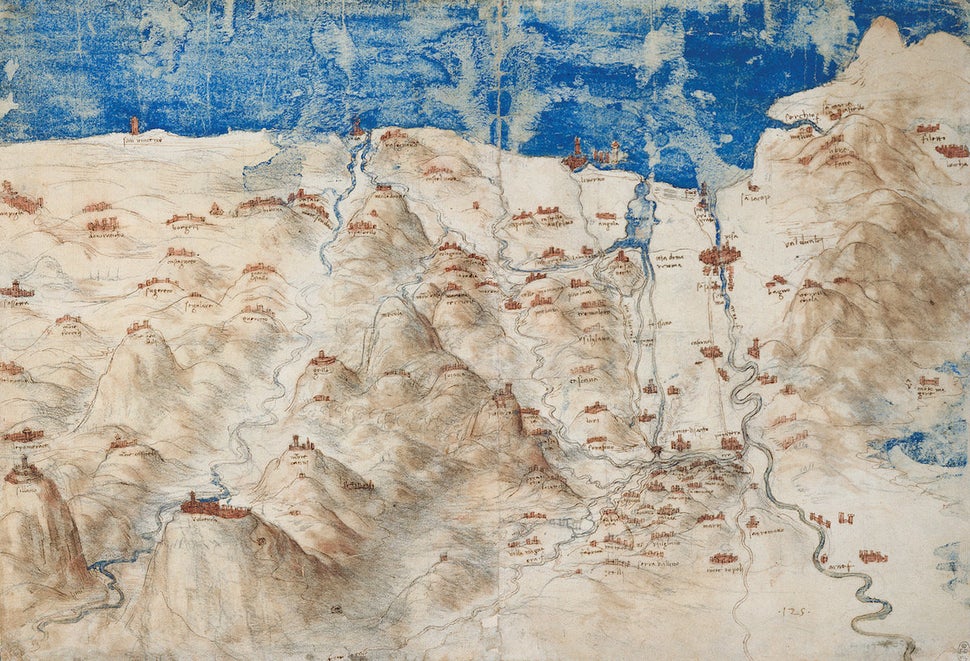 The Austin Community College (ACC) GIS Department is seeking two interns to assess the topological, spatial, and geocoding accuracy of 9-1-1 data in the Texas Commission on Emergency Communications' (CSEC) 9-1-1 Program. The pay rate is $12/hour and the position is located in the ACC Inc. office in Room 3212 at ACC Northridge Campus (next to the GIS Lab).
Interns will:
Assess the spatial, topological, and geocoding accuracy of 9-1-1 data.

Draft 

NG911 Geospatial Data Assessment Reports for selected counties.

Perform other GIS-related 

activities

 as needed.
This paid internship is open to ACC GIS students only. Please email a cover letter and resume to ACC GIS Department Chair Sean Moran at
smoran@austincc.edu
. Student interested in a Fall and/or Spring internship opportunity should consider applying.
Our ACC GIS Tutors are an important part of the ACC GIS program...just ask our students. 
With GIS classes starting, we are seeking candidates interested in tutoring this Fall. The pay for tutoring is $11/hour. We are planning on having tutors available at the following times and locations:
Monday 11:00am to 2:00 pm at NRG 3207 (TENTATIVE)

Tuesday 2:00pm to 6:00 pm at NRG 3207 (TENTATIVE)

Wednesday 11:00am to 2:00 pm at NRG 3207 (TENTATIVE)

Wednesday 4:00 pm to 6:00 pm at SAC 1207 (TENTATIVE)

Thursday 2:00 pm to 6:00 pm at NRG 3207 (TENTATIVE)
The time slots are tentative, so please forward your preferences, even if they don't line up with the proposed schedule above. Current and former ACC GIS Tutors will receive priority, but we will try to reserve slots for new tutors as well. Please forward:
What your day and time preference is, and

If you haven't tutored before, what your GIS work and/or course experience is.
Please email your preferences to Rhonda Little at rhonda.little@austincc.edu by Thursday, August 19th.  We will review all of the responses and send out an email with tutoring assignments Tuesday, August 23rd. The tutoring schedule will begin on Wednesday, September 7th and run through Thursday, December 15th. Thank you for your interest and we look forward to receiving your replies.