Kinder Klees

Kinders learned about the abstract art of Paul Klee, and explored line, shape and color.  We used wax resist and watercolor to create our portraits.
After the drawings were complete, we talked about
c
o
l
o
r
!  The students used watercolor paints and were instructed to repeat their first color in at least 4 spaces all around their paper before switching to a new color.  Their challenge was to try not to have the same color in neighboring spaces.  When they finished with the head, they looked at the colors used and chose a color for the background that would contrast with the portrait.  The results are amazing!  Check them out...
"Head of Man" by Paul Klee
The kindergartners are learning about shapes during their math time.  Artists love shapes, (it's an element of art), so in art class we used shapes to create images of our families.  We were inspired by Pablo Picasso's painting of
"Three Musicians"
.  We looked at the image and searched for circles, triangles, squares and rectangles.  Look and see how many shapes you can find in his artwork.  Check out our shape families below.
In their IB unit, How We Organize Ourselves, the kindergartners explore the community. So in art class, we looked at both the architecture of a German village and the San Diego Skyline.
German Villages
We looked at the different materials used to create buildings (stone, brick, shingles and wood, specifically German fachwerk) and the patterns that they create.  Check out our quaint German villages.
Cityscapes
We looked at images of cities at night and also observed the different shapes of the roofs of the buildings.  In order to create depth in our artwork, we learned about the concept of overlapping and made sure to place the smaller buildings in front of the larger buildings. 
Look at the lights glowing in our  night cityscapes.
Pinch Pots
Long, long ago before we had indoor plumbing and plastic water bottles, people used to have to create vessels to lug the water from the river or well.  Our kindergarteners created some beautiful pinch pots and focused on creating pattern through color, line and shape.
Prehistoric Prints
For their IB unit on Times Long Ago, we created images of animals that lived long, long ago...the dinosaur!  We looked at the different types of dinosaurs, some flew, some swam and some walked.  We looked at the characteristics of the dinosaurs, how some have long necks, some have wings, some have plates on their back, some have horns, some have big teeth, some are small and some are big.  After looking at the shapes that make up the dinosaurs, we created printing plates with foam and transferred the print with water and markers.  Check out these amazing creatures!
Hearts a la Jim Dine
During their IB unit on How We Express Ourselves, the kindergarteners learn about communicating without using their voices, so we look at how artists communicate visually using symbols and color.  We looked at Jim Dine, an American artist who uses the heart as a symbol in his artwork for the people and places he loves.  He uses color, pattern and images to create a mood with his hearts.  So the kindergarteners used the heart and had to communicate something about themselves by painting images or symbols and using colors things they love.  And WOW! were the results fantastic!
Wassily Kandinsky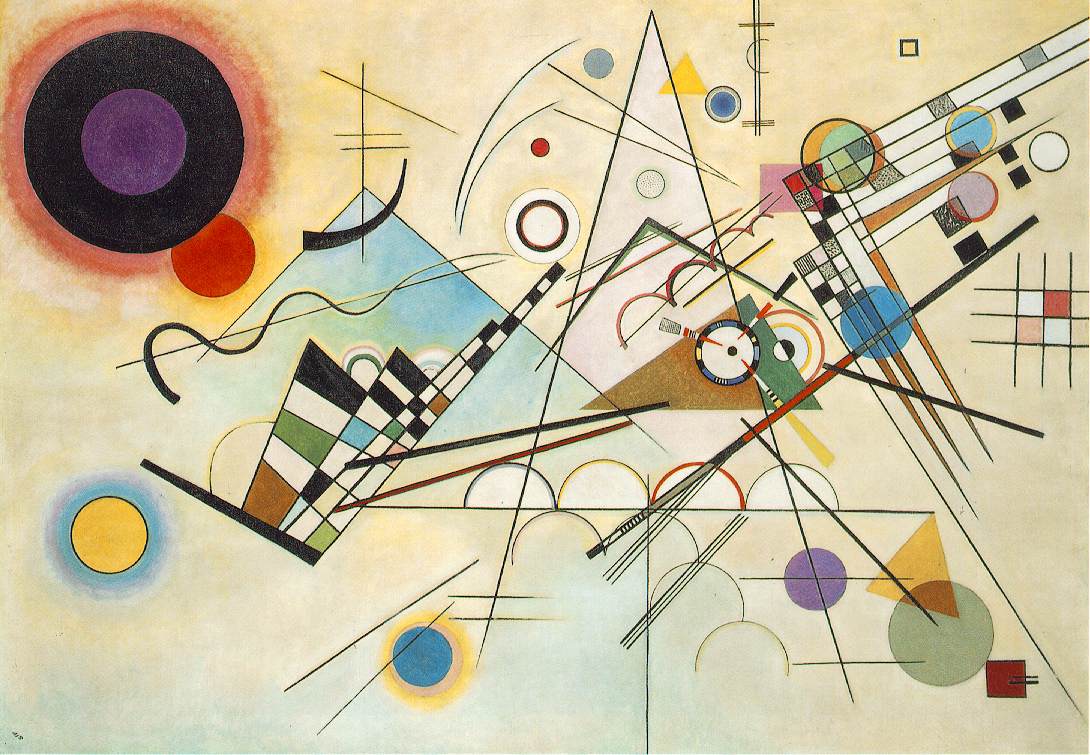 Kindergarteners explored the work of Wassily Kandinsky and his use of lines, shapes and colors.  They were given specific directions on what kinds of lines and shapes to draw and how manyof each, but the placement and color of those elements were up to the students.  The artwork turned out beautifully and the results were as varied as the individual artists.  Look for these in our Art Fair on April 27 in the MPR.
Above and Below
Kindergarteners are learning about plants and their structure: their roots, stems and leaves, so in art class we created drawings of root vegetables. They were completed with marker and texture rubbings.
Seasonal Trees
The kindergarteners explored the different seasons and how a tree would look in all four seasons.  We looked at the structure of a tree, the branches and the colors of each season.  Using a pointillism technique, our seasonal trees came to life.
Environment Murals
Each kinder class worked together to create a mural of some of the different environments around the world.
BLUE DOG
by George Rodrigue
We read the book "Why is Blue Dog blue?" and were inspired by George Rodrigue to create our Blue Dog's in a variety of places, some imaginary and some real.
Gyotaku
Gyotaku is the ancient art of fish printing.  To celebrate the end of the school year, the kindergarten created colorful fish print t-shirts.